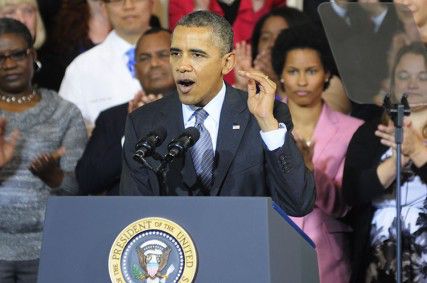 U.S. President Barack Obama bashed critics of the Affordable Care Act on Wednesday, saying the old system of healthcare was broken and those defending it should have to explain themselves.
Obama spoke to about 800 people at Faneuil Hall, the same place where former Mass. Gov. Mitt Romney signed into law a similar health care plan for Massachusetts seven years ago.
"It's because you guys had a proven model that we built the Affordable Care Act on this template of proven bipartisan success," Obama said. "Your law was the model for the nation's law, and today the Affordable Care Act requires insurance companies to abide by some of the strongest consumer protections this country has every known — a true patient's bill of rights."
Mass. Gov. Deval Patrick said like the healthcare marketplace that launched on Oct. 1, initiation of the state program seven years ago was not flawless, but in time the glitches were worked out.
"We started out with a website that needed work, we had a lot of people with a lot of reasonable questions and not a good enough way to get them the answers," he said. "But people were patient, we had good leadership and that same coalition stuck with it and with us to work through the fixes of tech surge and all … because health reform in Massachusetts, like the Affordable Care Act, is not a website, it's a values statement."
Protesters who urged Obama to reject the Keystone XL pipeline proposal interrupted the speech twice.
"That is the wrong rally," Obama said. "We had the climate change rally back in the summer, this is the healthcare rally."
In Washington, U.S. Health and Human Services Secretary Kathleen Sebelius testified before the U.S. Energy and Commerce Committee Wednesday to acknowledge problems with healthcare.gov. She said the problems would be fixed by the end of November.
Obama said the website has not worked the way it's supposed to and as a consequence, people have not been able to see the low prices and quality insurance plan the marketplace offers. He said ultimately, the website will be the best way to shop for insurance because buyers will be able to compare plans to find the best deal.
"There's no denying it right now: the site is too slow, too many people have gotten stuck and I am not happy about it," he said. "Neither are a lot of Americans who need healthcare, so there's no excuse for it and I take full responsibility for making sure it gets fixed ASAP. We are working overtime to improve it every day."
Patrick said the healthcare marketplace's critics cannot be silenced, and the focus should be on ensuring people have convenient and simple healthcare.
"The website glitches are inconvenient and annoying, they must be fixed and I am confident they will be," he said. "But the same folks that pretend to be outraged about the website not working didn't want the ACA working in the first place."
Today there is nearly universal coverage in Massachusetts, and the vast majority of citizens are happy with their coverage despite the initial hiccups, Obama said.
"The worst predictions about healthcare in Massachusetts never came true," he said. "They're the same arguments that you're hearing now … businesses didn't stop covering workers, the share of employers who offered insurance increased. People didn't get left behind, racial disparities decreased."
Patrick said healthcare in Massachusetts has benefitted the Commonwealth immensely.
"Every resident in the Commonwealth is insured today, more private companies offer insurance to their employees than every before, over 90 percent of our residents have a primary care physician, preventative care is up and health disparities are down, but most important of all, we are healthy both physically and mentally," he said.
Obama said every day the website gets better, and eventually there will no problems at all.
"More people are successfully buying their new plans online than they were a couple of weeks ago, and I expect more people will be able to buy online every single day as we move forward, were going to get these problems resolved," he said.
He said although the website is not perfect, people can still get the healthcare they need without using the website.
"You can still apply for coverage over the phone by mail and in person," he said. "These plans are still waiting, you're still able to get affordable reliable health insurance plans that have been unavailable for too many people for too long. I'm old enough to remember when there was no such thing as a website."