Last season, the Boston University softball team won the America East Conference title for the second straight year and the eighth time overall. The team was forced to overcome several injuries in their quest for postseason play.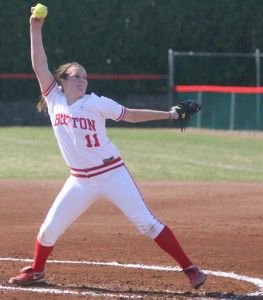 After beating out Stony Brook University in the AE championship, 4-1 on May 15, BU moved on to the NCAA regional round. Ultimately, the Terriers lost 5-4 to Long Island University in a comeback effort that came up too short.
"[In 2009] we were very talented, very healthy and we went through and beat some really good teams," said BU coach Shawn Rychcik. "I think last year we were a really good team but we were really hit hard by injuries. We had five players out, three starters out—last year was a little more of a 'just survive' type mode."
Leading the Terriers was senior pitcher Cassidi Hardy who had a 20-10 record with a 2.38 earned run average. Hardy, who graduated last May, was ranked 25th in the nation for strikeouts per inning.
"It's going to be different," Rychcik said of not having Hardy on the team anymore. "She's been on the mound for me for five years. We're going to have to find a new identity. She played pretty good her last couple of years where we really knew what we were going to get. We have to replace a big void."
Hardy will not be going far, though, as she will be returning as the Terriers' new pitching coach.
"Cassidi knows how to win in this conference and she knows what it will take," Rychcik said. "As far as just overall winning anywhere, she's won at regionals, she's won at the NCAA… she's beaten some good teams. She's a real solid person for me to have teaching my pitchers."
Likely to take over Hardy's spot this season will be sophomore Whitney Tuthill. Tuthill appeared in 26 games last season, finishing with a 12-5 record and a 2.62 ERA. In just her second game of her freshman season, Tuthill threw a no-hitter against University of North Carolina at Charlotte. She was one walk away from a perfect game.
"Whitney came out and was put into an important role toward the end of year and it ended up being an even bigger role," Rychcik said. "Cassidi takes us to the conference tournament and Whitney doesn't touch the ball, and then we get to regionals and Whitney has the ball in her hand every game. She's going to need to take the next step for us and what's her next step in her career, and hopefully she does it and does well and we can lean on her a little more than last year."
Joining Tuthill as a critical player on the team is senior center fielder and First Team All-American April Setterlund. Setterlund had a remarkable junior season that saw her named the AE Player of the Year. She finished the year with a .482 batting average and a .657 slugging percentage.  Setterlund was fifth in the nation in both batting average and on-base percentage.
"April had an incredible year," Rychcik said. "I'm not sure if that's possible to match just because of the circumstances with her not sneaking up on anybody. It'd be great if she matches it. I hope she does. I know she's shooting for it and even better, but realistically I know she's going to give us a solid year hitting .400 and driving in a bunch of runs… if she comes close to that, I'll be happy."
In early February, Setterlund was named to the USA Softball National Collegiate Player of the Year Watch List.
Tuthill and Setterlund's experience will be crucial to a team that has seven freshmen on the roster. Rychcik, while impressed by his freshman class, is wary of the "growing pains" that his team might face.
"They're a really talented class," Rychcik said, "probably my best recruiting class since I've been here. We're young in a lot of ways, but we do have some experience throughout the team so hopefully they can help our freshmen make that transition. I'm wowed at times by how talented [the freshmen] are."
This weekend the Terriers will start off their season at the Louisville Black and Red Tournament. BU will play four teams over the course of its weekend in Louisville, Ky.: Southern Illinois University-Edwardsville, University of Louisville, Wright State University and Miami University-Ohio.
Improving will be the most important aspect of this tournament, which will feature a pitching staff trying to find its way and a freshmen-heavy lineup.
"Hopefully from game one to game four we improve and the more the better for the year," Rychcik said. "That's kind of where we're at.  I just hope we improve and learn from what we do wrong, and hopefully we can weather any little problems we have and then get better."
The goal for the team this season is clear.
"Even though we're young, our plans are to win," Rychcik said.