While food trucks serve as a food option independent of the dining halls, Boston University might soon enter the growing market with a food truck of its own, university officials said.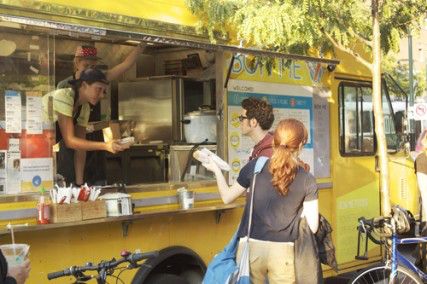 "We think there is a need based on areas of the campus that do not have as many dining options close at hand," said Dining Services Director Barbara Laverdiere in an email interview. "Obviously food trucks are very popular now across the country. Hopefully students will be happy to have another venue at which they can use convenience points."
She said the food truck menu, which consists of Asian fusion dishes. Though specifics have not yet been finalized, she said the truck would be parked at several locations throughout campus.
"We are in the process of obtaining licenses and permit," Laverdiere said. "Though it is a long and detailed permitting process, we are optimistic that we can make this happen this fall."
Ryan McGuire, chef and co-owner of the Pennypacker's Food Truck that parks on the corner of Saint Mary's Street and Commonwealth Avenue five days a week, said a BU food truck would not be a threat to business, but said it did not fit with the traditional idea behind food trucks.
"What's great about food trucks—independent owners, chef driven and stuff like that," McGuire said. "It's just another food truck, like another restaurant pops up."
About 75 percent of their customers during the academic year are students, he said.
Co-owner of Roxy's Grilled Cheese Mike DiSabatino said the majority of his customers are students.
"I like the colleges," he said. "I feel sort of at home—we get along really well. We form a lot of regulars."
Emma Walters, a senior in the College of Arts and Sciences, said she occasionally eats at food trucks because they have better food than the dining halls.
"I try not to each too much at food trucks because I live off campus, so I have to buy groceries, but on occasion, I do," Walters said. "If you could use dining points, that'd be pretty cool."
Blaze Travis, a freshman in CAS, said he never eats at food trucks.
"I live at Towers, so it's like a two second walk to 100 Bay State," he said. "I would eat [at a food truck] if they had the same type of food as 100 Bay State."
CAS freshman Tehya Saylor said since she has a dining plan, she tries to eat from BU Dining Services, but it would be a lot more convenient if BU had its own food truck.
DiSabatino said a new BU food truck would not change business.
"I think the food speaks for itself for most of the trucks," he said. "One day if you're hungry for A and one day you're hungry for B."
Laverdiere said dining services would not consider collaborating with privately operated and owned food trucks.
Previously, McGuire said Pennypackers had tried to work out a deal with BU but they declined. However, McGuire said he is one of the five food trucks on campus that has worked out a fundraising plan with the Sigma Phi Epsilon fraternity.
Philanthropy Chair of SigEp Alexander Valentine coordinated BU's first food truck fundraiser to raise money for his fraternity's Balanced Man Scholarship taking place Sept. 24 through Sept. 29.
"Food trucks are just sort of becoming more popular around city areas and specifically college campuses," Valentine, a College of Engineering junior, said. "I started going to them a lot during the summer when I worked here, when I forgot to pack lunch."
SigEp is collaborating with five trucks frequently on campus, including Paris Creperie, Pennypackers, Chicken & Rice Guys, Cookie Monstah and Momogoose.
A percentage of the total income from the trucks' stop at BU over the course of the week will be donated to SigEp's scholarship fund.
"We worked something out that would be mutually beneficial [with Valentine]," McGuire said.
The participating trucks will each feature a SigEp-themed dish for the week, Valentine said. He said he expects more than 300 students to participate. If the fundraiser goes well, Valentine said he plans to conduct the fundraiser yearly.
"Last year, I don't think I ate at a food truck once," Valentine said. "Since they're so new, I think the idea of them is hopefully going to, sort of, like, explode. I'm looking for this to be one of the catalysts for that to happen. We're kind of just trying to help that exponential growth of interest and profits for them."
Valentine said the fundraiser originally started with the idea for a food truck festival, but BU did not approve the proposal. Valentine said BU has very strict rules and standards for food truck vendors on campus.
"It definitely puts a strain on the number of businesses like food trucks," he said, "not even specifically food trucks, but anything like that to come on campus."