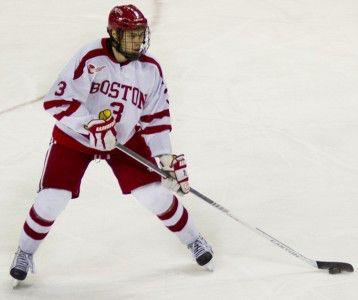 Despite being one of the Boston University men's hockey team's biggest defensemen in the 2012-13 season, Ahti Oksanen was also one of its mildest-mannered, with just 12 penalty minutes over 36 games.
However, the 6-foot-3 freshman said when he was growing up in Kirkkonummi, Finland, he looked up to an NHL defenseman known and feared for his mean streak.
"I always liked Chris Pronger," Oksanen said, grinning. "I know everybody hates him, but I liked him."
As BU senior defenseman Sean Escobedo pointed out, Oksanen may not be throwing any open-ice hits worthy of Pronger any time soon. But he has worked over the last year to adapt to the more physical style of North American hockey, trying to blend the offensive gifts he developed on a bigger ice surface in Finland with a stronger approach to playing defense.
Oksanen said he was disappointed with his first year at BU, in which he put up four goals and 13 assists. While he improved throughout the year, he acknowledged that his defense needed work early on.
In fact, Oksanen was a forward until four years ago, when a coach back in Finland suddenly decided otherwise. He said it took him a while to feel comfortable on the blue line, although he put up 14 goals and 27 assists for 41 points in the 2011-12 season with the Espoo Blues in Finland.
"[The coach] just said, 'OK, Ahti, you're on D today,'" Oksanen said. "And that was it. I never played forward again."
Oksanen speaks perfectly good, if heavily accented, conversational English and said taking classes in his second language was never a problem. When he first arrived in Boston, though, his hockey vocabulary didn't quite match his everyday vocabulary.
"It was hard, because I like to talk a lot on the ice," Oksanen said. "I didn't know the words for a lot of hockey terms, so it was hard to communicate out there."
"You would tell him something and he'd sort of nod his head, but he wouldn't fully understand," Escobedo said. "Sometimes Coach would take an extra second with him and just kind of draw it up for him so he could learn a little bit better. But once he got down the terminology and our system a little bit … he really developed and you could see him play his game offensively and defensively."
Oksanen credited BU associate head coach Mike Bavis with helping him develop the hockey terminology he lacked, which went a long way toward allowing him to be comfortable on the ice.
By the end of the year, Oksanen frequently played the point on BU's best power-play unit, alongside sophomore wing Evan Rodrigues at the other point.
His powerful slap shot helped set up chances for the forwards he played with and earned him a few points of his own, most notably in BU's weekend series with the University of Maine Feb. 15 and 16, when he had a goal and two assists.
"He's just one of those guys who's really cool and calm with the puck, knows where to go with it, knows where to distribute it, knows when to shoot," Escobedo said. "Having that back there, especially as a freshman defenseman coming in — he's playing like a veteran out there."
Oksanen came to the U.S. because he believed college hockey offered a better path to the NHL than staying in Finland. He also considered the University of Massachusetts-Lowell and St. Cloud State University before settling on BU. He had only visited the U.S. once before moving.
While he had some idea that his new head coach was well-respected, Oksanen said he didn't quite understand former BU coach Jack Parker's stature within college hockey until he got here, and hearing that Parker was retiring at the end of this season came as a surprise.
"It's kind of sad, actually," Oksanen said. "He really helped me a lot … he just showed me a lot about how to be a college hockey player."
Despite the initial language barrier, fitting into the team did come more quickly than relaxing on the ice for Oksanen. Escobedo said that after the first few practices, the team started to see a quirkier, more laid-back side of him.
"He's a joke-around kind of kid," Escobedo said. "When it's game time he'll take it very seriously, but away from the ice and away from practice, he's riding around on his little scooter, listening to his rock music. You'd think the kid just lives in the 80s over there."
Asked about the scooter, Escobedo continued, "[Senior forward Ben Rosen] had a scooter, and I made the mistake of bringing it here one day. Never seen it since. [Oksanen has] been riding around campus with it, rides around the rink with it. He's on his own pace sometimes."