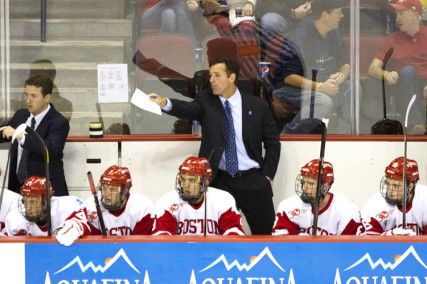 After five seasons of coaching the Boston University men's hockey team, Jack Parker won his first NCAA championship in a bout against Boston College. The year was 1978, and, in what would become a 40-year tenure as one of the most successful collegiate hockey coaches of all time, Parker had just given BU a look into the future.
Little did Parker know that, as he worked toward his first national title, a part of his future sat just 12 rows behind the BU bench and had just made the decision to ditch his local Friars of Providence College to become a fan of the Terriers.
That impressionable 11 year old who took note not only of who was on the ice, but also of the plaid jacket that Parker wore, was none other than David Quinn.
Almost 35 years to the day later, with Parker having announced his retirement, Quinn would become the 11th head coach in BU hockey history. The once highly touted NHL prospect, however, had not planned on becoming a coach when he first donned a BU sweater in 1984.
***
Six years after he became a fan of the program, as the Terriers prepared to start their first season as members of the newly-founded Hockey East Conference, Quinn took his first strides on the ice at Walter Brown Arena.
"You think to yourself, 'Wow, I really am here, at this level,'" Quinn said. "You play hockey all those years, and you play because you love it, and all of a sudden you're at the college level — big-time hockey."
Quinn, the Minnesota North Stars' first-round pick in the 1984 NHL Entry Draft, took some time to adjust to this new echelon of play as a freshman. According to Parker, however, the soon-to-be All-Hockey East and All-New England defenseman left his mark in his sophomore and junior seasons with the Terriers.
One problem, however, always seemed to stand in Quinn's way: his health.
"He was missing games here and there with injuries that seemed like they were out of sync with the way he got hit or how hard it was," Parker said. "We didn't really know what was going on, but when he was healthy, he was really terrific."
Ironically enough, it took Quinn's healthiest season — his sophomore year where he played the most games and registered the most points of his BU career — for Parker and team physician Robert Leach to question some of the bumps and bruises that ailed the Cranston, R.I. native. With the Terriers having just defeated Boston College 9-4 to win their first Hockey East Championship in 1986, Dr. Leach suggested that Quinn get his blood tested.
Two weeks later, Quinn was in the middle of making a serious decision. The North Stars wanted him to sign an NHL contract, but doing so meant that he could not play in the 1988 Olympics. The rising junior decided to talk to his coach. When Quinn went to talk to Parker, however, he noticed that Dr. Leach would also become a part of the conversation. The blood tests had come back, and the results showed that Quinn had Christmas disease – a type of hemophilia that caused his blood to clot at a decreased rate.
"At the time, they wanted me to stop right away," Quinn said. "I don't know how I did it, but I talked BU into letting me play. I signed a waiver, and played my junior year but missed half of my season because of a lot of bleeding issues."
Quinn stayed healthy during the second half of his junior season and prepared to try out for the 1988 U.S. Olympic team. A pick-up basketball game in June of 1987, however, derailed what was left of Quinn's hockey career.  After spraining his ankle in the game, Quinn developed compartment syndrome, a condition that can lead to muscle and nerve damage as well as issues with blood flow. The 20-year-old spent five weeks in the hospital and nearly bled to death.
Quinn understood that he would, realistically, not have a professional hockey career and returned to BU for his senior year. Although he could no longer play, he continued to support BU hockey as the co-captain of the team.
"Obviously Jack wasn't going to take the captaincy away from me, but it was difficult to be an active captain when you weren't playing," Quinn said. "It was a difficult time. You're 20 years old, and you think you're going to play hockey for a long time moving forward, and all of a sudden you can't."
***
About four years later, Quinn had a second chance at a professional career when he began taking a new medicine that raised his clotting factor to 100 percent. He tried out for the 1992 Olympic team and played minor league hockey for close to a year-and-a-half, but he had to inject himself with the expensive medicine every day before he got on the ice.
"I was making progress, and I was getting better and better," Quinn said. "But I told myself when I came back that if I wasn't a legitimate NHL prospect, or playing in the NHL after two years, I was going to move on with my life."
While this marked the end of Quinn's playing career, it came at the perfect time as former BU assistant coach Ben Smith had accepted a job as the head coach of Northeastern University's hockey team. In 1994, Smith hired the once-again retired player as one of his assistants — something Quinn said gave him an immediate boost because it put him at a high level in the very beginning of his coaching career.
"Right then and there," Quinn said, "I knew this was something that I wanted to do."
From there, Quinn helped to develop the University of Nebraska-Omaha's first Division I men's hockey program as the team's assistant coach and head recruiter. He also spent time as the head coach of the USA Hockey Under-17 team in Ann Arbor, Mich., and was eventually named the USA Hockey Developmental Coach of the Year in 2003.
In 2004, BU had a job opening, and Parker said he knew Quinn would make a solid addition to the program.
"Mike Bavis was the other assistant at the time, and Mike kept in with, 'We've got to get David here. We've got to get David here,'" Parker said. "He had been away from the program, and now he came back with a different point of view from working with other coaches."
For the next five seasons, Quinn developed one of the top defensive corps in the country and recruited players that became integral in the Terriers' 2009 NCAA championship win, Parker's third national title as BU's head coach.
During that time, Quinn and Parker began to discuss the possibility of Quinn eventually taking over for the storied head coach. Despite these conversations, Quinn said Parker never promised him the position.
"He certainly said to me, 'Hey, obviously you're a candidate. You're a BU guy. It's going to be a BU guy. If you do the job I think you can do, you're going to put yourself in a better position to be the next coach at BU,'" Quinn said.
Hours after the Terriers celebrated winning the national title, Quinn received a call to become the head coach of the Lake Erie Monsters, the American Hockey League affiliate of the Colorado Avalanche.
"I told him, as I told my other assistants over the years, if you want to be head coach, you have to go out and get [other] jobs," Parker said. "I told him that if he thought he wanted to be head coach here, that I was leaving in the not-so-distant future, and he'd be better off getting a head coaching job someplace else."
After three seasons as the Monsters' bench boss, and after leading the team to its first-ever playoff game, Quinn moved up in the Avalanche's system. He finally got his chance at the NHL, just not as the player he had dreamed of being when he was younger. Instead, he worked as an assistant coach to former Terrier teammate Joe Sacco during the lockout-shortened 2013 hockey season.
The day after Parker announced his retirement, Quinn received a phone call from Assistant Vice President and Director of Athletics Mike Lynch. A mere two weeks later, and a day after Quinn flew into Boston to work out an agreement, Lynch introduced the newest member of the BU men's hockey program.
"[He] was in tune with our idea of what a student athlete is," Lynch said. "Someone who wants to excel in academics as well as in athletics, someone who wants to be the very best competitor they can be, someone who really wants to win a national championship and represent Boston University in the best way possible. Those are the type of things that really pushed David to the top of the heap."
Over the course of the past six months, the players have learned to adapt to Quinn's coaching style.
"It's high intensity," said senior co-captain Garrett Noonan at Hockey East media day. "I think he's preaching a lot of things that will make us a real hardworking hockey team, and that's what we want to be — hard to play against."
***
As he sat in the stands of the 1978 NCAA Tournament 35 years ago, Quinn could not have anticipated the path his career would take. After dropping from the highs of being a first-round draft pick to the darker times of dealing with his hemophilia, the 47-year-old coach now has his dream job.
For all the comparisons that have been made and can be made of how Quinn will measure up to Parker, the new head coach has the goal of making his own spot in BU's hockey history. No moment better shows that than when Quinn stepped behind the bench for the first time in a game on Saturday. While the Terriers were only playing an exhibition against St. Francis Xavier University, it gave Quinn a sense of what it is like to work in one of the most prestigious college hockey positions in the country.
"Anytime the season starts, you're excited," Quinn said after the game. "I thought about my father a lot. My father passed away about three-and-a-half years ago, and it really had hit me when I was standing [behind] the bench. I know everyone asks, 'Are you caught up in replacing Jack?' and all that, but that wasn't anything I thought about.
"I was standing there for four minutes thinking about my father."