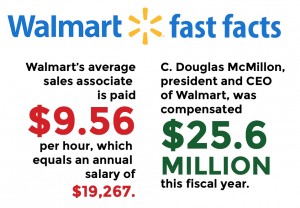 Anyone who went to a school that mandated a dress code shares a love-hate relationship with their uniforms. Itchy plaid skirts and throat-constricting ties can be unpleasant, but others recall the relief that came with not having to worry about choosing their outfits. However, it seems that dress codes in the big old Walmart franchise are causing its employees more frustration than alleviation.
Walmart Human Resources Executive Barbara Simone announced to all Walmart Supercenter employees that effective September 29, they will be required to follow new attire guidelines, which include wearing a fancy Walmart logo vest (with all-new pockets!), white or navy blue collared shirts, khaki or black pants, capris, or skirts and closed toe shoes in any color. Employees must purchase their items of clothing, with the exception of the vest, with their own money, but they are encouraged to buy them from Walmart using their associate discount. According to Simone's announcement on Aug. 5, these new wardrobe rules are based on the employee feedback collected from a company-wide survey.
"The pride we take in our appearance should make us feel good when we help customers," Simone said in a letter spread on the Walmart intranet. "It's a reminder that each one of us is part of something big – helping millions of people save money and live better."
While Walmart may claim these new employee uniforms will somehow improve the shopping experience, monetary savings and lives of its customers, a number of employees are claiming this new dress code will do exactly the opposite for their own lives and bank accounts.
The anonymous associates' forum on the Walmart intranet saw a surge in complaints following this new dress code establishment, with several hurling complaints at Walmart for making them spend money on a dress code they dislike when their salaries are already so low. Many employees recommend Walmart supply the uniforms at no cost to its employees.
"With all due respect to the company, this is more of a financial burden to our family since this is our only source of income with my wife and two kids," posted one anonymous sales associate. "We can hardly afford to live on my income now with us having to pay for a new uniform (aside from the vest). It's silly. The uniform we have now works. Why change it?"
It's not as if Walmart is suffering any financial woes on the corporate end. The corporation's net sales exceeded $473.1 billion in fiscal year 2014, according to their own statistics on their website. Of that hefty revenue number, its CEO and President C. Douglas McMillon took home $25.6 million of it, his salary having increased 168 percent from fiscal year 2013.
Now, let's take a look at the other end of this mega-corporation's employees. The average Walmart sales associate, of which there are approximately 2.2 million, is paid approximately $9.56 an hour, which translates to about $19,267 annually, a number that falls just below the poverty line for a family of three, according to the U.S. Department of Health and Human Services in 2014.
Walmart, whose employee morale is notoriously low due to past practices such as locking nighttime workers inside some of the stores and allegedly depriving employees of lunch breaks, is an easy target for internal criticism. Workplaces everywhere, from Deloitte to McDonald's, generally require their employees to maintain some sort of unfunded dress code. Is it really so much for Walmart to ask its employees to go buy a pair of khakis? Probably not.
So maybe the employees are making a big deal out of a trivial matter, but perhaps their complaints point to a larger issue in the world of the Walmart corporation. Looking at the pay disparities between what the company earns and what its employees take home shows glaring differences that would irritate any associate struggling to clothe their family, even with that sweet Walmart associate discount.
Should Walmart be required to provide uniforms composed of street clothes to its employees? Certainly not. But in the grand scheme of things, would it really be such a stretch for Walmart to set aside an assuredly tiny percent of its profits to pay for each employee's polo shirts (especially when they manufacture them)? Doubtful.
If Walmart is going to consistently market itself as an honest, family-based company, maybe it's time they treat their employees with a little more love. That may not mean clothing them, but perhaps it's time for them to reevaluate their average salary, which scarcely allows its employees to clothe themselves.