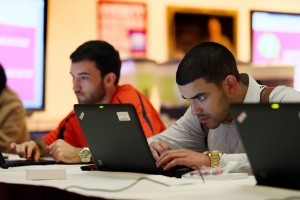 Almost 6,000 people ranging from students to CEOs participated in a free, online crowd-sourcing workshop hosted by Boston University's School of Management and sponsored by IBM from Sept. 30 to Oct. 2.
The Business Education Jam used massive online forums to cultivate discussions about the future of the business world and how business education can prepare the next generation of leaders.
"At SMG, we know that to remain relevant, we need to change continuously," said SMG Dean Kenneth Freeman in an email. "SMG presented the Business Education Jam to bring together academia – faculty, deans, administrators, students – and industry – CEOs, executives, talent recruiters, recent graduates – to identify actionable ideas that we and other business schools around the world need to take to close the gap."
The three-day Jam was based in the atrium of SMG. The open format of the forums was designed to facilitate interaction between business professionals ordinarily distanced from one another. VIP guests led conversations and cemented concepts for forums, while facilitators from BU directed the conversations further, said Rachel Reiser, assistant dean of SMG.
"There were a lot of people, thousands, who pre-registered, and then there were many, many people, a Jam record among IBM, who joined on as the Jam began," Reiser said. "That's a testament to the fact that people said, 'This is a conversation that we need to be in.'"
The ability for anyone to take part in the event was crucial to its design, Reiser said. People signed on from 93 different countries and over 400 colleges and universities.
"Any time people from different areas, with different experiences, cultural backgrounds and perspectives come together and focus on an issue, there is an infusion of energy and ideas [that] evolve more rapidly," Freeman said.
IBM, a company that has created a platform for similar "Jams" before this one, will utilize data analytics to identify the most important ideas that emerged from the workshops. Students and industry professionals in and outside of Boston University will then delve into the information IBM gathers.
"A couple of very significant organizations have asked us to provide keynote addresses at annual conferences on the Jam," Reiser said. "So we'll promulgate these ideas outside of the BU School of Management walls, but certainly I expect that within SMG, there will also be a lot of great application for considering what we teach and how we teach it."
Some participants said they had issues with the format of the Jam. Aadil Chitalwala, a senior in SMG, thought the broad scope of the Jam limited its efficiency and that tangible networking connections were difficult to establish in the forum setting.
"Mostly, if I post something, it would be all the students who reply," he said. "I've been through the whole recruiting thing, and I know that it takes a lot more to create a good impression than just being someone on the other end of a chat."
However, SMG junior Jacob Saitman said the conference was effective in teaching students the value of ethical leadership.
"There's this huge stigma that employers are looking for people that are willing to just do what's best for the company instead of doing what's best for the planet, or doing what's best for society," he said. "What I learned from the Jam was that that's not entirely true, and that there are people looking for ethical leaders."
Gabriel Hannawi, a sophomore in SMG, did not participate in the Jam himself, but said it provided participants with a meaningful experience.
"I know a lot of friends of mine took part in it and were actively conversing with different people in it," he said. "There were back and forth discussions, and a lot of people got a lot out of it."