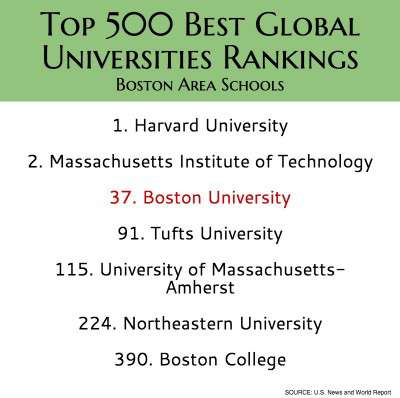 Boston University placed 37th out of the top 500 schools from 49 different countries in the 2015 inaugural edition of the U.S. News & World Report Rankings for best global research universities.
The rankings, released Oct. 28, measure research performance, global and regional reputation and the number of doctoral degrees awarded, said Lucy Lyons, a spokeswoman from the U.S. News & World Report.
"In terms of higher education, the 2015 Best Global Universities rankings offer the most comprehensive assessment of research universities worldwide as well as by region and country, so students can better evaluate all of their options," Lyons said.
Harvard University came in first as the highest ranked global research university, followed by the Massachusetts Institute of Technology in second and the University of California-Berkeley in third.
BU tied with University of California-Davis for 37th place. New York University placed one ahead in 36th place. Tufts University placed 91st, University of Massachusetts-Amherst came in 115th, Northeastern University in 224th and Boston College in the 390th place.
The United States is the top-performing country by a considerable margin with 134 universities in the top 500 or roughly 26.8 percent of all the ranked schools, Lyons said. Germany was the second top-performing country after the United States with 42 schools in the top 500. The United Kingdom was third with 38 schools, according to an Oct. 28 press release.
BU spokesman Colin Riley said this ranking validates the great research faculty and students are doing and their contributions to science and education.
"We have a long history of having a diverse and international community in today's world with the growth in some parts of the world, their economies," he said. "People in those companies are recognizing that BU is higher education and higher quality."
Riley said BU continues to foster and welcome more international students that bring diversity to the student population.
"We have a very strong international applicant pool. It's highly competitive for those students to be accepted at BU," he said. "Over 20 percent of our student body is international. It's a balance that we have had for some time. We are continuing to look for the best students possible from the U.S. and the world."
By encouraging students to study abroad, BU continues to have successful relations with other international universities, Riley said.
"Forty percent of students and grad students study abroad," he said. "Participation in those programs around the world has helped in those recognitions as well. Those schools recognize the caliber of BU and quality of our programs."
Several students said BU is a great global university in terms of opportunity, diversity and community.
"I do feel that going to a university abroad is better than going to one at home because you grow as an individual," said Daniel Habbal, a sophomore in the College of Arts and Sciences, who is a pre-medical student from Lebanon.
AJ Phelan , a junior in the College of Communication, said the global student body is one of the main reasons he enjoys going to BU.
"BU has a diverse campus, especially at SMG [School of Management]," he said. "I see a lot of international students in my classes. International students get to experience a great education here that they wouldn't be able to do at a smaller school."
Allie Lenney, a junior in CAS, said BU provides good international educational opportunities and positively prepares students for global exposure. She said she plans to go to Europe to study abroad.
"BU has a huge amount of study abroad programs and good relations with other international universities," she said. "It's important to be part of what the school does internationally. You have to know what is happening with the rest of the world."