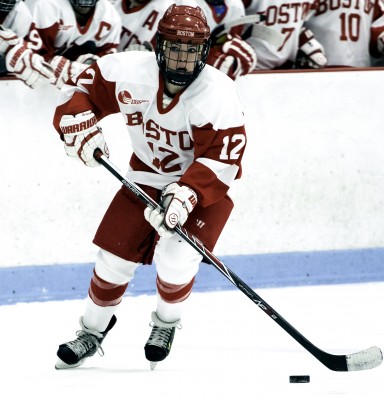 Prior to this weekend, the No. 7 Boston University women's hockey team had scored seven or more goals in just one game in the 2014-15 campaign.
Then, in winning their Hockey East quarterfinal series against the University of Vermont, BU (23-8-3, 15-5-1 Hockey East) managed to surpass that in back-to back-games when they bested Vermont (15-19-2, 6-14-1 Hockey East) 8-1 on Friday and 7-2 on Saturday.
Most notably, the Terriers received considerable contributions from senior captain Marie-Philip Poulin and junior assistant captain Kayla Tutino. On Friday, Poulin tallied four assists and Tutino had four goals, while over the course of the series they respectively put up five and six points.
As crucial as the top-line forwards were in winning the quarterfinal series, unheralded freshman forward Victoria Bach was just as important. With Bach's play, the Terriers are now one step closer to winning another Bertagna Trophy.
"Victoria really moved the puck well this weekend and had some beautiful assists," said BU coach Brian Durocher. "She had one of the power play and one to start the first game to Kayla [Tutino]. It shows she has multiple dimensions, that she's not just as a goal scorer, and can make a good hockey play as well."
In Friday's game, Bach registered three assists, one of which was a jaw-dropping back post feed that capped off a give-and-go with Tutino. Her strong play continued into Saturday when she fired a goal past UVM goaltender Madison Litchfield and added another pair of assists.
While many would be surprised to see that kind of offensive output from a freshman, especially in the playoffs, Durocher said Bach's talents have always been there, even if slightly overlooked.
"The best way to describe Victoria is through her individual skills," Durocher said. "Her skating, her hand skills and her ability to shoot around the net are all at a very, very high level. When she's around the net, although she may not have the hardest shot, she always finds open spots and reads what the goalie is doing."
Bach also finished the quarterfinal series with a combined plus-six rating, which was tied for the team-high across the weekend. This largely can be attributed to Bach's speed, subtly strong defensive game and nose for the goal.
However, Bach's impressive plus/minus rating was significantly boosted by the help of her fellow underclassmen linemates. Bach, along with freshman forward Rebecca Leslie and sophomore forward Maddie Elia, formed a formidable second line that had a strong weekend against UVM.
The trio combined for 12 points in the quarterfinal series, fired 29 shots on the UVM net and provided BU with vital depth.
"We try and put three talented players together and, in doing so, you have to move a natural center in Victoria Bach to left wing," Durocher said. "She's responded though and has Maddie in the middle and Rebecca Leslie at right wing. All three are talented offensive players, and we were hoping that would create that second wave of offense. It's nice to see them mesh."
With BU now set to play in the semifinal round of the Hockey East Tournament, Bach's fine form could not have come at a better time. Opponents tend to hone in on the top line of Poulin, Tutino and junior forward Sarah Lefort, but they now have to be cognizant of the threat Bach poses.
Durocher said Bach, who has 33 points on the season and the most goals by a freshman in the NCAA, has the potential to propel the Terriers to victory when they arrive in Hyannis for their Saturday and Sunday games.
"Heading to the league semifinals in [Hyannis], Victoria won't be able to do it alone, so having Maddie [Elia] and Rebecca Leslie will help," Durocher said. "You always expect when you go into the semi's and finals that you're going to get a little bit better competition, so having her confidence on the upbeat is a real positive for us."