The 2014-15 Boston University school year was one marked by intense inquiry. Following a year of significant change, student and faculty brought their voices to the forefront, assessed BU as a whole and, above all, asked questions. Should the university divest from fossil fuels? Are fraternities beneficial to the student body? What about the way BU addresses sexual assault cases? These inquiries will open the door to new developments as more questions are asked over the coming months and more changes come to BU's campus.
Here are several topics and issues that The Daily Free Press covered this year and will continue to cover during the 2015-16 school year.
Divestment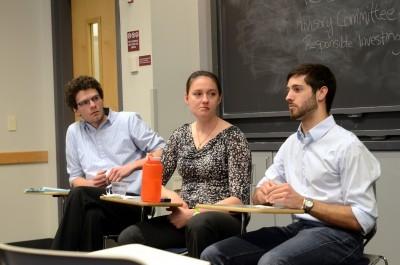 Earlier in the school year, the BU Board of Trustees elected to continue investing in the civilian firearms industry despite a request by the Advisory Committee on Socially Responsible Investing to divest. The ACSRI is currently deciding whether or not to recommend divestment from fossil fuels. Back in September, more than 240 faculty members signed a petition advocating for university-wide divestment. The ACSRI held a series of forums over the course of the spring semester that addressed the issue and solicited expert and student input. In April, following a request from the student group Students for a Just and Stable Future, students were asked in an online ballot whether they think BU should divest from the fossil fuel industry. The Student Government Senate approved the referendum and it was added to the SG election ballot. The election found that approximately 75 percent of students agree that the school should divest. At this point it is still unclear what the ASCRI will recommend to the Board, but their decision may be revealed during the fall semester.
New science research center
BU recently began construction on the Center for Integrated Life Sciences and Engineering, a new nine-story research center in the middle of the Charles River Campus. CILSE will highlight research in subjects like photonics, synthetic and systems biology, systems neuroscience, data science, global health, urban health and infectious disease. BU and Boston officials broke ground on the facility the second week of May, and construction is set to be completed late 2016 or early 2017. CILSE is being built between the Alfred L. Morse Auditorium and the College of Communication, a space that currently holds a 60-space parking lot. The research facility will visibly change the skyline of BU's campus once finished.
A Student Government turnover
The 2014-15 school year for BU Student Government saw a lot of leadership turnover among the Executive Board, culminating with elections that put a new E-Board in power. At the end of the fall semester, it was revealed that SG Executive President Richa Kaul, Senate Chair Tyler Fields and Chief of Staff Pablo Das would be studying abroad in the spring, and therefore would not be able to continue serving in their positions during that time. As a result, Executive Vice President Joe Ferme became executive president and Vice President of Finance Josh Mosby took over as executive vice president. SG still chartered multiple initiatives, including "16,000 Strong," which aims to raise awareness about campus sexual assault, and "Expect More," a text-message-based survey that aims to garner student feedback about the school.
The end of March marked the beginning of the E-Board elections for the upcoming school year. Three slates, TeamBU, True BU and BUtiful Dreamers, put candidates on the ballot, and after two weeks of campaigning and numerous complaints filed, all four candidates on TrueBU's slate won election. About three weeks later, however, Executive Vice President-Elect Melesilika Finau announced that she was stepping down from her post. The Student Elections Commission initially asked second place candidate Matt Sgrignari to fill the position, but he turned it down. Third place candidate Barron Roth, from the BUtiful Dreamers slate, then agreed to take the position, and he will serve as executive vice president in the fall. True BU vowed during the campaign season to increase the connection between SG, BU administration and student groups.
African Presidential Center closure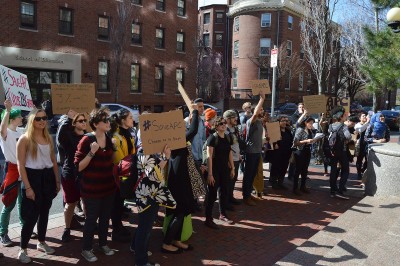 In mid-April it was announced that BU's African Presidential Center would close on June 30. BU officials said the reasons behind the closing were financial: the APC relies on external funding, and the center could not raise enough money to continue, BU spokesman Colin Riley said. The director of the center, Charles Stith, however, claims that BU meant to intentionally shut down the center. He told The Daily Free Press that he was informed of the high fundraising goal set by the school too late, and that this issue is reflective of what he sees as Boston University President Robert Brown's administration's "hostility and discrimination" toward the African-American community at BU. Student organizations like the People of Color Coalition hosted rallies and town halls urging the administration to keep the center open, though at this point it is unclear whether any progress has been made and whether the center will remain open after the end of June.
Adjunct unionization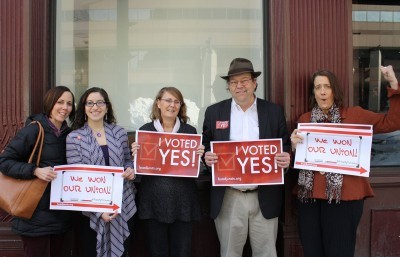 BU's adjunct professors voted in February to officially unionize. Following a vote of 319-158, the professors joined Service Employees International Union Local 509, a Massachusetts-based union that represents more than 18,000 human service workers and educators. The vote followed an eight-month campaign by some adjuncts who led the movement toward unionization. They argued against low wages, poor health benefits and weak contracts. Later, in April, the adjunct professors in the Center for English Language and Orientation Programs voted 23-2 to also unionize as part of SEIU Local 509. The adjuncts now begin negotiations for better working conditions and to achieve the goals set over a year ago.
Greek life suspensions
Over the course of this academic year, several fraternities were suspended for various reasons. Sigma Chi was suspended in the summer of 2014 following an anonymous complaint of hazing. In February, Delta Tau Delta had their recognition as a student group withdrawn following reports of two separate instances of underage drinking at events, and Kappa Sigma was suspended for distributing promotion for a "blackout party" that Dean of Students Kenneth Elmore said encouraged excessive drinking and taking advantage of women. Though these Greek organizations did not have distinct on-campus housing, they are now no longer considered BU student groups by the Student Activities Office. This means they can no longer use space on campus, receive funding or operate under BU's name. These frats will most likely work to restore their status on campus during the upcoming academic year.
The sexual assault debate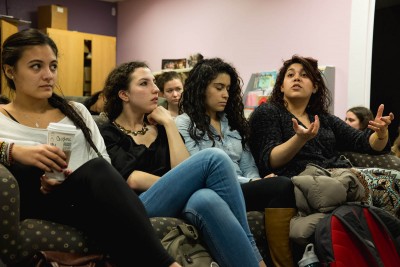 Inquiries into BU's sexual assault procedures took a front seat this past academic year. About a year ago, in May 2014, BU was named one of the 55 colleges under investigation for mishandling sexual violence and harassment complaints and violating Title IX laws. In February, BU introduced new Title IX policies that updated how the university addresses these complaints. About a month later, BU launched a confidential survey that was used to determine the prevalence of sexual violence on campus, but many students disagreed about the true impact the survey would have in mitigating sexual assault and harassment. In April, representatives from the U.S. Department of Education's Office for Civil Rights visited campus and held open office hours to talk to students confidentially about their experiences. Later that week, a student wrote a letter to The Daily Free Press claiming that she was sexually assaulted during the beginning of her first semester at BU at a fraternity party, and that BU did not take the proper steps to discipline her assailant: after a suspension and subsequent appeal, he was allowed to remain a student, she wrote. The letter went viral among the BU community in the following days, breaking page view records and opening up a continuing conversation about campus sexual violence.