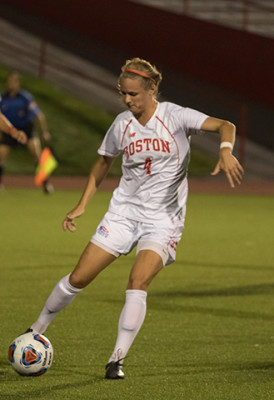 The Boston University women's soccer team defeated the United States Naval Academy, 1-0, to finish its Patriot League schedule undefeated while capping off its conference regular season title.
The Terriers (10-5-3, 8-0-1 Patriot League) got off to a quick start when senior midfielder Clare Pleuler nailed a free kick from 20 yards out in the eighth minute. The Gloucester native has been a force throughout the entire season on both sides of the ball.
The BU defense did what it has been doing all year, limiting shots from the opposition with strong, physical play. Senior goalkeeper Alyssa Parisi recorded her fifth shutout of the season, the second-most in the Patriot League, and boosted her record to 10-3-3.
The Midshipmen (10-6-4, 3-2-4) had as much to do with the loss as the Terriers had to do with the win. Navy committed 13 fouls in the game, one of which led to Pleuler's goal, the sole score of the game.
The Terriers, who have led a balanced attack all season, continued their dominance against Navy as they led the Midshipmen in shots and corner kicks.
The game was symbolic of the season, defensively, as the Terriers are tied for first in the conference in goals allowed and goals-against average. Offensively, they are second in points, assists, goals and goals per game.
BU coach Nancy Feldman said the Terriers kept a high level of energy throughout the game.
"It was a strong performance, start to finish," Feldman said. "Our consistency and mentality to win battles and to defend in transition was the difference in the game."
Feldman emphasized that beating Navy was no easy task.
"Navy is a good team," Feldman said. "The inconsistencies in our attack are a credit to Navy. They were disruptive in what we were trying to do, but we did a good job putting ourselves in a position to come out with a win."
After a rough start to their season, the Terriers finished in spectacular form, as evidenced by their 1-0 win over the Midshipmen.
"They continue to get better every single day and every game," Feldman said. "They maintained a positive outlook the whole season. Their positivity and motivation to keep after it allowed them to be so great."
A theme of the whole season has been BU's upperclassmen leadership. Feldman said throughout the season, her seniors have done a fantastic job of setting an example for the younger players on the team.
"We've had great leadership," Feldman said. "The seniors walk the talk, they model, they have led by example. They demonstrated how to go about being successful and allowed the younger players to play a key role."
In each and every game, it seemed that the Terriers' physical nature dictated the game, and that was evident until the final whistle of the Navy game.
"They're a gritty group of kids. They dig down deep," Feldman said of her team. "You have to have a strong mentality, and this group had a very strong mentality."