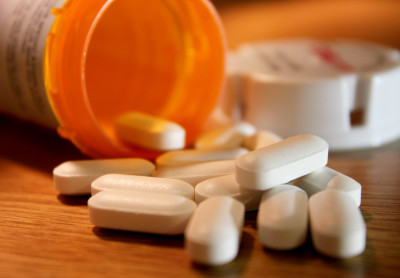 In a continued effort to combat the nation's opioid crisis, Massachusetts Gov. Charlie Baker and Lt. Gov. Karyn Polito announced a medical school program that will train students on how to identify and treat patients at risk of substance misuse disorders.  
The Massachusetts Medical Society and medical schools at Boston University, Harvard University, Tufts University and the University of Massachusetts have partnered with the governor's office to help alleviate the epidemic.
"These educational standards represent an innovative and forward-thinking contribution to the state's multi-faceted strategy to curb the opioid epidemic," Baker said in a Monday press release. "Massachusetts is again setting a new standard by providing our medical students with a strong foundation in treating those with substance use disorders."
Recommendations from the Governor's Medical Education Working Group on Prescription Drug Misuse list three key domains the students should be aware of, which include prevention, treatment and awareness of substance misuse disorders.
The group identified several ways to help prevent opioid misuse by evaluating a patient's need for opioids, determining their risk for substance use disorders through health records, family history, drug urine screenings and screenings for psychiatric disorders. The group also suggested prescribing pain treatment options that do not involve opioids.
Dennis Dimitri, president of the Massachusetts Medical Society, said the underlying issue is opioid misuse and treating it.
"The real issue is that when we say 'misuse,' what we're referring to is the fact that somebody is using an opioid in a way other than it may have been prescribed, whether that was to them, in which case it would clearly be misuse," Dimitri said. "If it was prescribed to somebody for pain after a procedure and it was long after the procedure and now they were using it in some other recreational fashion, that would be misuse."
The issue has received priority in recent years, Dimitri said, due to a spike in deaths from opioid abuse and misuse.
"One of the things I clearly want to make everyone aware of is how high a priority this particular health issue is for the Massachusetts Medical Society right now," Dimitri said. "It is really the number one issue on our public health agenda and that this particular effort with respect to educating Massachusetts medical students is only one part of what needs to be done to bring this crisis under better control."
Several residents and BU School of Medicine students said they approve of the decision to ensure that future physicians will be able to identify and treat drug misuse.
Jean Vilus, a first year student in BUSM, said the ability to spot opioid misuse would be a valuable skill for all healthcare professionals.
"Being able to identify and treat [opioid misuse] would be important in any job that we do," he said, "whether it's directly related to the field we're going into or if it's just out on the street."
Tim Murphy, 34, of Fenway, said that the opioid crisis needs to be addressed.
"Misuse definitely seems to be a big problem in general," he said. "Medical professionals should certainly be able to handle it."
Jacob Pratt, 24, of Fenway, said he believes that doctors should be capable of treating all addictions.
"I've heard that opioid misuse is increasing and I'm absolutely supportive of the decision," he said. "Every doctor should be able to serve any form of addiction, whether it be alcohol or drug-induced."