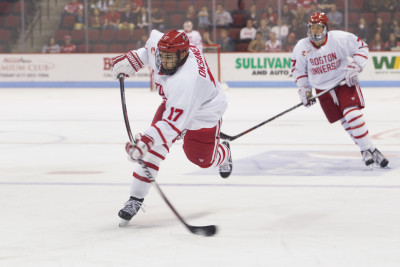 Even before the season started, this was probably a weekend the No. 12 Boston University men's hockey team had circled on its schedule.
There have been plenty of significant games thus far for the Terriers (8-5-3, 4-3-2 Hockey East), such as the ones with No. 1 Providence College and then-No.16 Cornell University at Red Hot Hockey, but these next two against two top-15 teams in Connecticut, perhaps, are some of the most crucial yet.
Add in the possible distraction of upcoming finals and the winter intercession, and BU finds itself in a pretty tough spot for its games against No. 15 Yale University and No. 2 Quinnipiac University.
Still, though, head coach David Quinn is maintaining a positive attitude through it all. And why not? His team has only lost twice in the last month-plus.
"We seem to be in a good spot," Quinn said. "It sure is a difficult time of the year with exams, our youth. I liked how we bounced back [against the University of Vermont], obviously got 51 shots and found a way to get it done.
"We've obviously put ourselves in a good position this weekend and we can finish strong."
Indeed, the Terriers looked sharper in last Saturday's 5-3 win against Vermont  (4-10-2, 3-5-2 Hockey East), recording a season-high 51 shots in the process. A revamped offense with sophomore forward A.J. Greer on the first line and senior wing Ahti Oksanen bolstering the second seemed to pay off.
Quinn noted that the he was happy with the way the offense looked, but said he's still looking to find the right combinations. That'll be more paramount this weekend, especially since sophomore forward Nikolas Olsson has been ruled out with an upper-body injury.
But it won't just be the forward corps that takes on a different look. The defense will "probably not" have senior captain Matt Grzelcyk, who had a setback in practice this week in his attempt to return from a knee injury. Sophomore Brandon Hickey will be at Canada's World Junior selection camp, and thus will also be unavailable.
That poses a bit of a problem for BU, which only has one extra healthy defenseman on its roster, freshman Shane Switzer.
Quinn said he has not yet decided if Switzer will join the lineup or if the team will roll with five blue liners and an extra forward.
"We've done it in the past, but who knows." Quinn said of the prospect of playing five defensemen. "… Not that we have a lot of options anyway."
BU's shorthanded lineup will first get a look against Yale (5-4-2) on Friday night at 7 p.m. at Ingalls Rink. It'll be a rematch of last year's NCAA first-round game, one that BU won 3-2 in overtime on then-junior forward Danny O'Regan's goal.
The Bulldog's roster looks a lot like the team last year, returning their top-8 scorers, including 2014-15's No. 1 point-getter Frankie DiChiara, who has six points in 11 games this season.
The spine of last year's team, goaltender Alex Lyon, is again backstopping the Bulldogs. Lyon's 1.76 goals-against average is fourth highest in the ECAC, and his effort in net has been crucial on Yale's conference-leading 93.5 penalty-kill percentage.
Lyon, who was hurt in warmups before last Saturday's game against Princeton University, is expected to play Friday night, according to the New Haven Register.
According to Quinn, Yale's success at containing opposing offenses starts and ends with Lyon.
"Well they got a great goalie, that's a great place to start," Quinn said. "They're big and strong, they get in front of the net, they compete hard. They make like miserable for you at the net front. We've gotta make sure we have a nose for the net and not easily denied and make life miserable for them."
Life could get even tougher on Saturday night, when BU travels 15 miles up the road from New Haven to Hamden for a matchup with undefeated Quinnipiac (15-0-2). It'll be the first time these two programs will ever meet.
In their 17-game unbeaten streak to start this year, there hasn't been much the Bobcats haven't done well. Quinnipiac leads all ECAC teams in goals per game (3.71) and goals-against average (1.22).
The Bobcats' high-powered offense is supported by the top-two scorers in the ECAC, forwards Sam Anas (nine goals, nine assists) and Travis St. Denis (eight goals, nine assists). Nine players in Quinnipiac's lineup have already reach double-digit points.
Equally as impressive, goaltender Michael Garteig has proven to be one college hockey's best. His .952 save percentage and six shutouts are both second in the entire NCAA.
Essentially, all has gone right for Quinnipiac to start the year. Quinn is hopeful BU can make a dent in the wrong column.
"Especially when you don't play for as long as we don't, these games, you're going to live with for awhile," Quinn said. "It's going to be the final taste in your mouth before we get back to the action in January.
"These games are huge in that regard."