CHESTNUT HILL — David Quinn, head coach of the No. 10 Boston University men's hockey team, had few words to describe his team's 5-3 loss to No. 4 Boston College on Friday night at Conte Forum.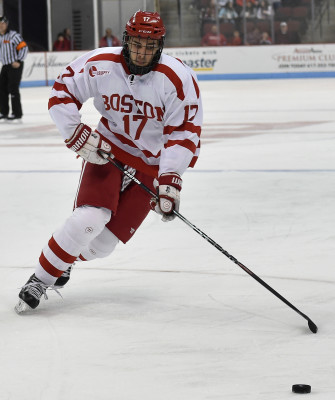 "Very, very frustrating," he said, solemnly, in his postgame press conference. "Very frustrating."
The loss snapped a three-game winning streak for the Terriers (11-7-3, 5-4-2 Hockey East), while propelling BC head coach Jerry York to his 999th career win. He will attempt win number 1,000 against BU on Saturday at Agganis Arena.
"I thought we were slow," Quinn said. "I thought we were soft … just way too many odd-man rushes, and just not an awful lot to like about our game tonight."
The Eagles (15-4-2, 8-1-2 Hockey East) held a 3-2 lead for the majority of the third period. But with 4:12 left in regulation, after the Terriers had trailed for more than 20 minutes, senior assistant captain Matt Lane's shot bounced off BC goaltender Thatcher Demko and past the goal line to tie the game 3-3.
Less than two minutes later, though, freshman forward Bobo Carpenter was sent off for a tripping call. Defenseman Ian McCoshen followed with a hard shot from the right point to give BC the lead for good.
McCoshen later added an empty-netter with 13.4 seconds remaining to seal the victory at 5-3.
Things went in BU's favor early, though, when it took the initial lead on a power play in the first period. Senior forward Ahti Oksanen sent a puck behind him to freshman forward Jakob Forsbacka Karlsson, who shot near the high slot to give BU a 1-0 advantage with 1:59 left in the first period.
Early in the second period, BC forward Austin Cangelosi fell down going to the net and earned a penalty shot. He slowed down enough to fool BU goaltender Sean Maguire and tie things up for the Eagles, 1-1, just 2:01 into the frame.
Just 17 seconds later, however, Oksanen and Forsbacka Karlsson connected again, as Forsbacka Karlsson fell and earned a tripping call. But the center managed to get the puck back to Oksanen, who converted on the delayed penalty to score his 100th career point and give BU a 2-1 lead.
However the Eagles scored the next two goals to take the lead. Forward Zach Sanford scored at the 5:18 mark of the second frame to tie things up, and forward Colin White added a power-play goal to make things 3-2 in favor of BC.
In a penalty-laden affair, the teams combined for 11 calls throughout the first two frames, with six of those going against BU. The Terriers got two more penalties in the third period, with Carpenter's late tripping penalty ultimately leading to a power play for the Eagles and the ensuing game-winning goal.
"Some stick penalties, some undisciplined plays," Lane said. "You don't want to question the calls but it happens and if you're taking eight penalties in a game, you're not going to give yourself a good chance to win, especially against a good team like BC."
BU, usually a team with success this season against some of the nation's best, entered the game with two wins in the past three games over top-five opponents. The loss tonight was BU's first loss to a top-10 team this season.
"I thought we took a little bit of a step back tonight," Quinn said. "Certainly not the way we want to play or we need to play if we're going to have success moving forward."