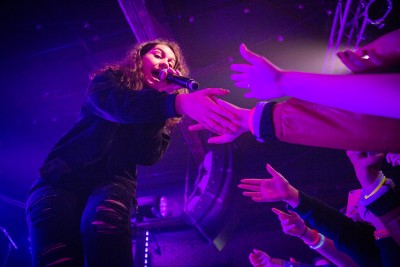 The most surprising moment of Alessia Cara's Friday night concert at Brighton Music Hall wasn't when her three-piece band kicked off the show with a techno-infused remix of her smash hit "Here," or when Cara slayed a cover of Rihanna's "Diamonds." No, the most surprising — and meaningful — moment of the set was when the 19-year-old Canadian singer did something decidedly un-19. She told everyone to put their phones away for just one song.
"Let's just be in the mood together," she told the crowd before going into "River of Tears," the strongest ballad off her debut album "Know-It-All," released in November.
Cara captivated the audience in that moment with her emotional effort, proving that she has the versatility, talent and star potential to grow exponentially as she continues in the industry.
Though "River of Tears" was the most powerful moment of Cara's Boston show, the real climax was when she ended her main set with the pop and R&B-infused "Here," widely regarded as one of the best songs of 2015, which just last Monday hit No. 1 on Billboard's Hot R&B/Hip-Hop Songs chart.
"This song really changed my life," she said after taking a Polaroid picture of the audience. The teen in her was showing.
Everyone in the audience knew every word to the surprisingly radio-friendly "Here," the all-too-honest song about being at a party you don't want to be at and telling your friends to meet you in the car.
Despite the fact that it's the theme song for anyone who hates going out, that song was probably the main reason fans came out to see Cara of Friday. But that wasn't the only moment that had the crowd resonating with and enjoying the rising teen star.
Fans loved "Seventeen," Cara's chanty manifesto about never growing up and slowly learning to take others' advice. And the Rihanna cover successfully woke up the crowd after a dull performance of "Stars," a sweet album ballad that fell flat in a live setting. Cara's voice fit perfectly with "Diamonds," leaving me — and likely many onlookers — pondering if she could be the next Rihanna, with her carefree swagger and youthful aura.
Near the end of the show, Cara went on a rant about societal beauty standards before performing "Scars To Your Beautiful," her self-love anthem that throws up a giant middle finger at anyone who ever tried to tell her "what beautiful should be." She dedicated to the song to the girls in the audience, fittingly.
"So to all the girls that's hurting, let me be your mirror, help you see a little bit clearer, the light that shines within," she sang, leaning down towards the first row and high-fiving her adoring fans.
And the repeat-after-me chants of "No, better you than the you that you are!" during the bridge of "Scars" was an instant crowd-pleaser that fit with overall message of the show.
Due to her songs like "Scars" and loving attitude, Cara appeals to all types of people, and it showed in her audience Friday night. All genders, ages, races and body types were represented near equally, something hard to achieve for a relatively small artist.
Moms shouted the lyrics to the up-tempo bops. Preteen girls ran to their dads after the concert, exclaiming how much they loved Cara. College-aged guys bounced happily to "Wild Things," one of her more popular songs that seemed to describe the passionate crowd appropriately.
Cara proved more than anything that she has potential. Though still trying to find her sound and specific niche (some songs felt cluttered with a mix of acoustic guitar and electronic beats), she has the ability to captivate audiences with her youthful ambiance and leave them feeling, more than anything, happy.
Even during "Here," a song about being an "anti-social pessimist," everyone was smiling. She had impeccable stage presence, not to mention snatching vocals and surprising rap abilities.
So don't be surprised if the next time Cara comes "here," she's in a much bigger venue with much bigger songs and an even bigger attitude.