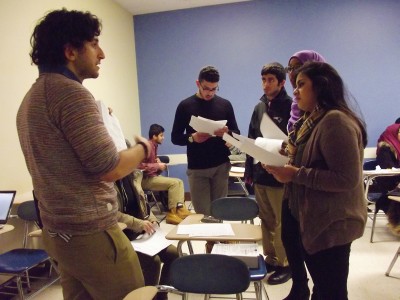 The Islamic Society of Boston University held a voter registration phone bank Tuesday at the College of Arts and Sciences to increase Boston-area Muslim voters' participation. Approximately 20 volunteers participated in calling potential voters and guiding them through the voter registration process.
Volunteers called potential voters for approximately one hour in hopes of getting as many registered as possible. The phone bank succeeded in registering nine initially unregistered Muslim voters out of approximately 200 Muslims called, MassMuslims organizer and 2015 BU graduate Sana Hashmani said.
The gathering was organized in partnership with the MassMuslims organization, ISBU President Taiba Zahir said.
"MassMuslims works with getting Muslims in the Boston area civically engaged and politically active," Zahir, a junior in the Sargent College of Health and Rehabilitation Sciences, said. "They reached out to us and they wanted to have a voter registration drive to encourage people to vote."
Engaging in the community is a crucial mission within the Islamic society, Zahir said, while college students have the ability to make social change.
"College students have the potential of doing big things," Zahir said. "As Muslims, being a specific demographic, it's important to show that Muslims are active in their community. We are engaged, and we are just like everyone else who wants to make their own community better."
MassMuslims also worked with JetPac Inc. to help execute the "voter registration drive." Christopher Addis, an organizer from JetPac and a 2014 BU graduate, said their partnership is to further engage the Muslim community in the civic process.
"JetPac's goal is to increase civic engagement in communities that are underrepresented in politics and to get people [who] are underrepresented in politics elected to local offices," Addis said.
JetPac will continue to host the phone banks until Feb. 10 with the hope of getting through all 16,000 unregistered Muslim voters in Massachusetts, Addis said.
Hashmani said they obtained a list of unregistered but eligible Muslim voters from the Massachusetts Democratic Party to encourage potential voters to make a difference in upcoming elections.
"Two-thirds of people who are eligible to vote don't vote," she said. "If those two-thirds actually voted, the [government] would not be the way the government is today."
Volunteers were given specific script to recite during phone calls to encourage potential voters and give them a better understanding about the registration process, Hashmani said.
"[The volunteers] will go through the list of unregistered voters and calling each household and saying, 'Hi, I'm from the Muslim Voter Registration project and I'd love to get you registered and are you registered to vote?'" Hashmani said. "If they say no or if they thought it was really hard, we can say, 'No it's actually really easy and I can register you right now if you give me some information.'"
Hashmani said this gathering would not be the last effort to increase Muslim voters' participation.
"This was our first voter registration phone banking event," she said. "We plan on having more voter registration events such as tabling outdoor to get anyone who's crossing the street [and] to make sure everyone's registered to vote, not only focus on the Muslim community."
Several student volunteers said it is important to engage Muslims in all aspects of society to take part in communal activities and being politically active.
Sabrina Hassan, a sophomore in CAS, said she wanted to participate in the drive to better inform people about the importance of voting.
"I never used to vote and once I got to college, I realized how important it was to try to convince people who used to think the same way that I did why it's important," she said. "It's important because as Muslims, our voices tend to not be heard and we need to organize and make sure we're as effective as we possibly can be."
Faridat Ilupeju, a sophomore in the College of General Studies, said exercising voting rights has the potential to create a more fair judicial system for all citizens.
"If you don't register to vote, you don't get jury duty," she said. "That's where you find a lot of people that are falsely accused in situations where they can't really be proven innocent because they have a jury that works against them."
Annie Khanani, a sophomore in Sargent, said representing Muslims in all aspects of society is crucial to establishing a fair environment.
"Muslims in general are so prevalent, but they're not [prevalent] in the political world," she said, "If I can help in making sure that Muslims are aware of what's going on and that they have a say in [politics], then why not?"
A previous version of this story stated JetPac will continue to host phone banks with the hope of getting through all 16,000 unregistered Muslim voters in Boston rather than in Massachusetts. This correction is reflected in the story above.