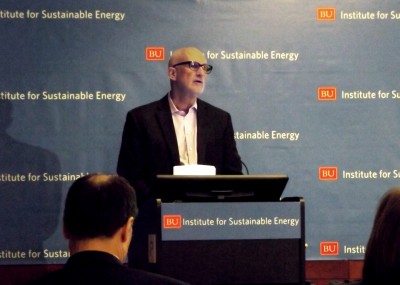 Boston University professors addressed climate change and environmental policy analysis through conversations of current and future research as part of the "Research on Tap" lecture series Thursday at the Rafik B. Hariri Building.
Peter Fox-Penner, a professor in the Questrom School of Business, and Gloria Waters, vice president and associate provost for research, hosted the sustainability symposium of 14 professors for a crowd of approximately 60 BU faculty members and students.
"I'm here to try to increase the already significant policy and industry engagement that BU has," Fox-Penner said during his opening speech. "We can do more, and we have to do more considering the size of the challenge we face."
The symposium was held partly in response to a challenge that "calls for contributions from disciplines that span the full range of BU's capabilities in research and policy analysis" following the Paris Climate Conference, the discussion's website stated.
Professors Cutler Cleveland, Ian Sue Wing and Kevin Gallagher were a few of the 14 speakers who presented their latest research, all of which involved sustainable efforts in the United States and abroad.
The research topics presented included changing energy that increases emissions, evolving the power and necessity of solar power and the relocation of resources within certain platform companies.
Henrik Selin, a professor in the Frederick S. Pardee School of Global Studies, discussed his work on the implementation of the Paris Agreement and explained that energy, specifically mercury, abatement is a critical part of climate change.
Lucy Hutyra, a professor in the Department of Earth and Environment in the College of Arts and Sciences, explained her findings on carbon dioxide emissions, particularly in relation to the importance of big cities.
Cleveland, also a professor in the Department of Earth and Environment, presented his research on the change of energy and its impact on emissions. He argued that a "slow rate of change is cause for concern," and that what we really need is "purposeful, collective actions to make these changes."
A renowned expert in the fields of energy policy, sustainability and business strategy, Fox-Penner joined BU's faculty Jan. 1 and recently established the Institute for Sustainable Energy. The ISE is a "university-wide center for research, academic program enhancement, and engagement with industry and the energy policy community," its website states.
Fox-Penner previously served as a senior advisor to the White House Office of Science and Technology Policy and principal deputy assistant secretary for a division within the Department of Energy, according to a Dec. 14, 2015 Questrom release.
"I've been lucky enough to work both in government and in the private sector," he said. "Really seeing how those sectors work and living within them has been a fantastic experience. What I hope to gain at the end of the day is progress on creating a clean energy future."
Several attendees said the symposium was appealing because of its emphasis on creating a sustainable future by addressing a large variety of research topics.
Carolyn Berninger, a second-year graduate student studying international relations and environmental policy in the Pardee School, said she attended the talk because she is very interested in the transition to a sustainable economy.
"I liked that a couple of the talks focused on things like distributed energy and community collaboration, platform-based energy," she said. "Those things are very important."
Mark Begley, an assistant program coordinator in the Metropolitan College, said he was impressed by both the researchers and the amount of work they produced.
"I didn't totally understand the mechanics behind it, but the technology behind [Malay] Mazumder's water-free cleaning of solar panels was fascinating," he said. "That is the sort of research on a side technology that enables a more well-known technology that I don't often think about, so it's interesting to see someone so specifically focused on something that could enable a broader change."
Gregoire Mazars, a junior studying environmental policy in CAS, said he plans on being involved with the ISE in the future because of its variety of research topics.
"You know how in research there's a lot of certain topics that come up again and again?" he said. "There were a lot of variations today that I had never heard of."