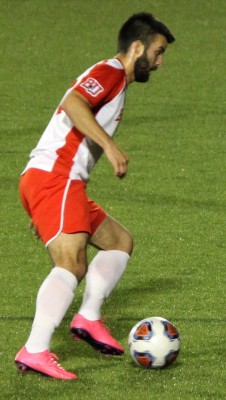 After a 2-1 victory Saturday over the University of Massachusetts Amherst, the Boston University men's soccer team will face Northeastern University in a Tuesday night matchup at Nickerson Field.
While tallying four goals through their first two contests, the Terriers (1-1) have struggled with accuracy thus far, as just nine of their 26 shots were on goal. With that said, BU head coach Neil Roberts said he is more concerned with BU's pace of play, which slowed against the defensive Minutemen (0-4-1), and said he believes the goals will come if the team's offense can stay uptempo.
"Against UMass, it was a little more difficult because they were playing more conservative," Roberts said. "UMass and Northeastern [1-3] are definitely two different types of teams, so it's going to be a more open game."
With an arsenal of veteran strikers, namely junior Anthony Viteri and senior Felix De Bona, who have combined for three goals, the rapid-fire approach could be a problem for Northeastern goalkeeper Jonathan Thuresson, who has surrendered six goals in four games.
Not only do the Terriers have returning talent, but Roberts has found promising freshmen like Jerry Ozor and Matt McDonnell during the first two contests.
And in the midst of a four-game stretch that spans 11 days, he'll look to fully utilize his roster to see who can step up before Patriot League play begins on Sept. 24 at Bucknell University.
"We obviously want to know by midseason what we have exactly," Roberts said, "and I think over these next few games, you are going to see these underclassmen play a bit more."
In Tuesday's matchup, the Huskies look to senior Khesanio Hall, who tallied the second-most points last season, to crack crack the Terriers' stingy defense.
Following a 3-12-2 campaign a season ago, Northeastern changed up its personnel, and is now led by former Dartmouth College associate head coach Chris Gbandi. Gbandi takes over a Huskies side that has lost its last two contests to BU.
Despite different starts to their seasons, Roberts said he believes the Huskies, like the Terriers, are entering this game searching for their identity. Roberts, now in his 32nd year at the helm, is aware that Gbandi already has a pulse on how his team plays, though.
"They are a team that has talent, but is looking for their identity the same way we are," he said. "We don't know a lot about this coach and this team. We played against Dartmouth [1-1-2], so he knows what we are about, but we have to figure them out as the game goes on."
The Terriers will come into this contest ready to face their regional rivals and look to get a confidence boost before facing two Ivy League teams to end pre-conference play.
"After the Princeton [University] and Brown [University] games, the identity of this team will really be formed," Roberts said. "We're not there yet as a team, but we will be there soon after these games. If we have more performances like we had against UMass, though, I think that will be easier for us to get that confidence."