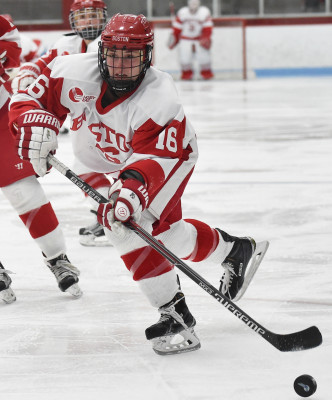 The Boston University women's hockey team graduated eight seniors last year, five of whom were forwards. Especially after breaking the four-year streak of winning Hockey East last season, there was some uncertainty of what this season would bring.
But after defeating the Whitby Junior Wolves 6-0 on Saturday in an exhibition game and topping Providence College 5-2 in the first conference game of the season, the 2016-17 Terriers (1-0, 1-0 Hockey East) are undoubtedly back on track to bring the consistently successful team that fans have come to expect.
BU head coach Brian Durocher described the exhibition game as a "thorough effort," and Sunday's match similarly. However, he admitted his team lacks experience compared to last year's crew.
"We don't have as many people who have killed penalties or played on the power play," Durocher said. "We could roll out special teams probably three deep last year with kids who knew what they were doing, how we broke out, what we were trying to do. This year it's a little bit of a work in progress."
Durocher was quick to note a few veterans on his roster that were adept at the penalty kill, though.
"You know, we had some of the kids who weren't penalty killers last year playing [against Whitby]," Durocher said. "We know [junior forward Victoria] Bach and [junior forward Rebecca] Leslie can kill penalties. [Senior forward] Sam Sutherland has killed penalties. We want to give some other people the opportunity and the chance."
No one would know the power play was unseasoned, as they were 4-4 in power plays on the night versus Whitby. One power play lasted a mere 25 seconds as sophomore forward Sammy Davis sent the puck past Whitby goalie Brooke McQuigge.
While the Whitby team may not be quite as threatening as Hockey East opponents, the penalty-kill team was perfect on Saturday, not allowing the Wolves to score on any of their three power plays.
The penalty-kill and power-play unit was also frequently in action against the Friars (0-1, 0-1 Hockey East), as the Terriers had a quite a few power-play opportunities as well as offsetting penalties for both teams, resulting in several minutes of four-on-four, sometimes three-on-three hockey.
In just the first period, there were a total of eight penalties, three of which were for BU. The second frame featured two Terrier penalties out of five total.
"There were parts of [the game] that had a little bit to do with discipline," Durocher said. "Part of it is the officials being under tightened-up rules."

In addition, BU's newcomers are already making their mark and showing they can compete at the same level as the upperclassmen.
"I was impressed with [freshman defenseman] Abby Cook, [freshman defenseman] [Alexandra] Calderone, [freshman defenseman] Breanna Scarpaci," Durocher said. "The three freshmen defensemen did a nice job."
Sunday's game against Providence reflected similar strengths, as newcomer and graduate student forward Mary Parker, who played three seasons at Harvard University, opened the scoring for the Terriers.
"For me, three things come to mind [about Parker]," Durocher said. "One is her offensive ability. She was the leading scorer two years ago at Harvard. The second is that I know she's been a good penalty killer, and we haven't gotten her out there a ton just yet, but she's going to have a part in that. The third thing is that I look for her still to be a leader."
Sutherland, who recorded the first hat trick of her college career on Sunday, mentioned that this weekend's results set the bar high for the remainder of the season, and it's something the Terriers will look to continue.
"Getting that momentum is huge," Sutherland said. "I know in the past when we haven't had that, especially the freshman. They are a huge chunk of our team this year, and it makes a difference. I know I have high hopes for this team. We're a lot deeper this year.
"Getting that under our belt, everyone's going to move with it, momentum is going and we're going to feel pretty great going into the season."