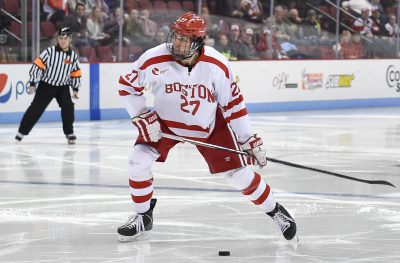 Boston University hockey fans got their first taste of Terrier action this past Saturday night at Agganis Arena, as BU kicked off the 2016-17 season with an exhibition game against the University of Prince Edward Island. The Terriers won the farcical game — which included 39 penalties, 122 penalty minutes and four game misconducts — by a score of 10-2.
In addition to displaying an overwhelming lack of discipline, BU showcased its offensive prowess as it went 5-of-10 on the power play. Freshman Patrick Harper recorded a whopping seven points on the evening (five goals, two assists), while fellow newcomer Clayton Keller netted a hat trick.
BU probably won't get 10 power plays again this season. They probably won't score 10 goals again either, and Harper may not score five goals in his next five games combined. Still, expectations for the Terriers this year are as high as ever — largely due to its deeply talented freshman class.
This past June, BU became just the second program in NCAA history to have four of its players selected in the first round of the NHL Entry Draft. Three of the four — center Keller, winger Kieffer Bellows and defenseman Dante Fabbro — are freshman.
Keller, selected seventh overall by the Arizona Coyotes, was the first Terrier off the board. Sophomore defenseman Charlie McAvoy was taken 14th overall by the Boston Bruins. Dante Fabbro was chosen by the Nashville Predators at No. 17, and the natural-scoring Bellows followed soon after, going 19th overall to the New York Islanders.
While the Terriers' nine-man freshman class class has rightfully received plenty of hype, it does have enormous shoes to fill. The Terriers graduated six key players last year, including all three members of their leadership trio — form captain Matt Grzelcyk and assistant captains Matt Lane and Danny O'Regan — as well as forwards Ahti Oksanen and Mike Moran and starting goaltender Sean Maguire. Other key departures include defenseman Brandon Fortunato and forward Robbie Baillargeon, who transferred to Arizona State University, which is entering its first Division I hockey season.
A new era of BU hockey is dawning, and it has the potential to be the best we've ever seen. Still, there are a few important question marks that will determine just how far these Terriers make it.
Firstly, with such a young team (17 members of the 26-man team are freshman or sophomores), coaching will play a huge role in the development of both the individual players and the team. BU head coach David Quinn has been strong for the Terriers since taking over for the legendary Jack Parker in 2013. This year, though, he has the potential to become either great or disappointing. At the 2016 NHL Draft, Quinn was heard discussing the Terriers' 2016-17 season, saying, "only one person who can screw it up and you're talking to him."
The Terriers will need good, consistent goaltending in order to advance to the national title game. Junior goaltender Connor LaCouvee played in just 19 games last year, and frankly, was mediocre at best. His .897 save percentage and 2.92 goals against average numbers make it very easy to miss Matt O'Connor (.927 SV% and 2.18 GAA during his junior year) and Sean Maguire (.920 SV%, 2.41 GAA as a senior last year).
Freshman Jake Oettinger played 37 games for the Under-18 U.S. National Team last year, during which he recorded a solid .908 SV% and 2.38 GAA. BU will need either Oettinger or LaCouvee to step up if they want to compete against schools like the University of North Dakota, University of Minnesota, University of Denver and St. Cloud State University.
Ultimately, the question is this: what should we expect from the 2016-17 Terriers? Is it safe to call them a sure-fire contender? Or will all the hype fizzle out by early November?
Last year, BU was eliminated from the NCAA Tournament in the first round, as the University of Denver Musketeers trounced the Terriers 7-2. The year before that, the Terriers, led by freshman Hobey Baker-winner Jack Eichel, lost a heartbreaker to Providence College in the National Championship Game, plagued by a devastating mistake from goaltender O'Connor.
The 2016-17 season could be a story of redemption for coach Quinn's Terriers, who have come close in recent years, but have failed to deliver when they needed to. With what might be the best freshman class in NCAA history, as well as key returning players including the future Bruin McAvoy, captain Doyle Somerby, and forward Jordan Greenway (selected 50th overall by the Minnesota Wild in the 2015 NHL Draft), BU has everything it needs to make another run at a national championship this year.