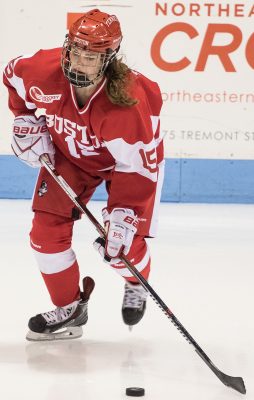 As seen during its weekend sweep against Princeton University, the Boston University women's hockey team has relied on its first line to create scoring chances this season.
The group of first line forwards — graduate student Mary Parker and juniors Victoria Bach and Nina Rodgers — was formed on Oct.15. Since then, they have been a force to be reckoned with on the ice. Over the weekend, they were responsible for three of eight goals scored by the Terriers (10-5-1, 6-5 Hockey East).
To date, the trio has recorded a total of 28 goals.
"I think right from the beginning no matter who's played with them, Victoria and Mary have had some real good karma," said BU head coach Brian Durocher. "They've played extremely well and they've obviously produced quite a few points."
Parker has scored at least one goal in each of the past eight games, and this weekend she brought her consecutive point streak to nine games with two goals against the Tigers (5-6-1).
Bach lost her six-game point streak after Friday's game against Princeton, but she leads the team with 13 assists. She is currently tied with Parker for the most points on the team with 23 each.
Rodgers had a slower start to the season, but has steadily accumulated points, including two goals in two games against No. 6 Boston College. This past weekend, she collected one goal and three assists.
"I don't even think she's hit her stride yet," Durocher said. "I think she's going to score more goals down the road. Each day is a little bit of a growing experience and I'm just happy to see that she's relaxing and playing very good hockey."
Rodgers' efforts did not go unnoticed by the college hockey world, as she was named Hockey East Player of the Week on Monday.
Two overtime wins in past three games
The Terriers have gone into overtime only three times this season. Despite their early tie against Pennsylvania State University on Oct. 14, BU has played well in overtime, especially during their recent wins.
Against Harvard University, the Terriers had a 2-1 lead going into the third period and took a 3-1 lead with 12:25 remaining, only for the Crimson (1-8) to bounce back with two goals in three minutes.
In the first overtime game between these two teams since 2014, Bach scored the game-winning goal just over three minutes into the period.
"We gave up a couple late goals, but again found a way to win in overtime, so those are the marks you like to see, that you're being resilient," Durocher said.
On Saturday, BU faced a much tighter matchup in its second contest against the Tigers, who held a lead going into the final frame.
The Terriers came back once again, and 37 seconds into overtime, Parker sealed the win with a goal assisted by her fellow linemates.
Victoria Hanson has career-high 41 saves
For senior goaltender Victoria Hanson, the season has been filled with ups and downs. At the start, she was splitting time with junior goaltender Erin O'Neil, and was sidelined during the four games against BC (10-3-3, 9-2-1 Hockey East) and the University of Maine.
Her skills have impressed Durocher since the pair of games against Merrimack College, and she has subsequently seen more ice time. She recently started in the tough matchup against Harvard, and kept the point advantage for the Terriers.
"She's got plenty of reach, and if she gets herself in the right spots, she takes away a lot of the shooting opportunities for the shooters," Durocher said. "I'm happy to see her getting comfortable there and not overplaying the game, but getting ready and making the first save."
Against Princeton, the Stoughton native continued to show why she deserved her starting spot on the ice.
Friday night, Hanson kept the Tigers to one goal and made a career-high 41 saves. The following afternoon, she went on to save 29 shots, including one during overtime.
Hanson and the rest of the Terriers must continue to bring all of their efforts if they want to continue their success when they play the University of Connecticut in a home-and-home series this weekend.
"From a mental state, we're feeling good," Durocher said. "When that happens, you get a little bit of momentum and you can get a run, and for five games it's been a good run. All in all, I like the general compete level, I like the structure of which we're playing."