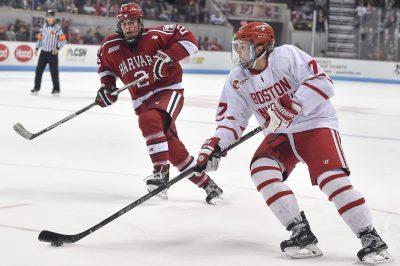 While the Beanpot Tournament is laced with history, its 65th championship game concerns a bird of a different feather: Two elite teams.
Just ask Jakob Forsbacka Karlsson, an assistant captain for the No. 4 Boston University men's hockey team, about what it'll be like to play against No. 3 Harvard University on Monday night at TD Garden.
"These are the kinds of games you come to BU to play," the Swedish center said.
It'll be head coach David Quinn's Terriers (19-8-2, 11-4-2 Hockey East) taking on head coach Ted Donato's Crimson (17-5-2), and they're both likely to play for silverware come springtime.
In the here and now, though, is where the young guns from Commonwealth Avenue and the old guard from Cambridge are thriving.
For BU, key threats exist via freshman forwards Clayton Keller (30 points) and Patrick Harper (27 points) and sophomore forwards Bobo Carpenter (23 points) and Jordan Greenway (24 points). Then there's the squad's bedrock – six NHL draft picks who lace 'em up along the blueline. Most impressive of all is freshman goaltender Jake Oettinger, who ranks top-five nationally in goals against average (1.80) and save percentage (.935).
As for Harvard, Quinn put it bluntly.
"It's tough to find a flaw [with Harvard]," the fourth-year head coach said with a laugh. "They're good at everything. They're a little bit better at a few things, but they're good at everything."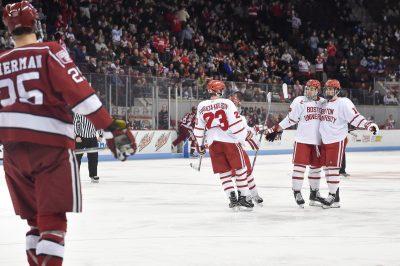 Quinn wasn't joking either.
The Crimson boast the highest winning percentage in the country (.750), rank third in the nation in scoring (3.96 goals per game) and are fifth in power-play scoring (25.5 percent). They thrive on a personal level, too.
Their best skater arguably is senior forward Alexander Kerfoot, who has 30 points, and is only trailed by classmate Sean Malone's 28 points. Then there's freshman Adam Fox's 1.13 points per game, which leads all blueliners nationally. Their only weakness – if it could be called that – may be the .918 save percentage and 2.22 goals against average of goaltender Merrick Madsen.
"We're going to need to play our best hockey," said Chase Phelps, a junior forward on BU. "It's that time of year where you need to play your best hockey to win games."
Back on Nov. 22, BU did just that, earning a 5-3 win over Donato's squad. Quinn, however, isn't reading into that result, largely because something more precious is now there for the taking.
"It's that time of year where the regular-season title is at stake, the Beanpot championship is at stake," Quinn said. "Every game has added meaning as you get closer to March 1."
That last point bears extra gusto, namely as the Charles River neighbors are enduring different runs of form.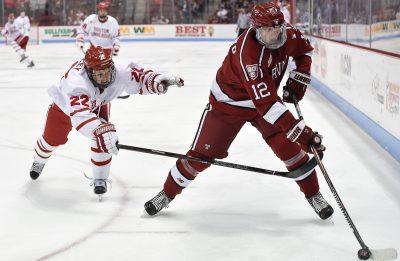 The Terriers are 3-3 in their last six games, having dropped a 3-2 decision on Friday at No. 9 University of Massachusetts Lowell. Meanwhile, Harvard is 6-0-1 in its last seven games and knocked off No. 6 Union College, 6-2, on Friday.
But when the puck drops at TD Garden, BU said past games go out the window. Rather, it's about rewriting history books, raising hardware and earning bragging rights.
For the Terriers that'd mean capturing their 31st Beanpot crown and first since 2015, while the Crimson are in search of their first title since 1993.
So, what's the message ahead of this much-anticipated showdown?
"Honestly just enjoy the moment," Phelps said. "You don't get to play at the Garden too often, and when you do you get the chance to make the best of it."