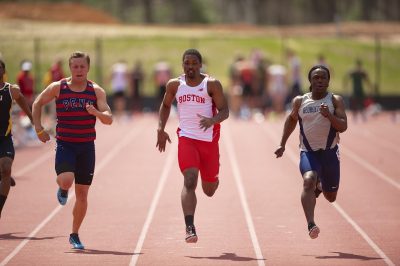 The Boston University men's and women's track and field teams concluded their indoor season at the Patriot League Championships this past weekend at the Track and Tennis Center.
The women's track and field team came up just short of defending its Patriot League title from last season, finishing second behind Bucknell University.
The Terriers were led by a standout performance from senior Toria Levy, who won four gold medals in the 60-meter hurdles, 200-meter dash, 500 meter-dash and the 4×400 medley team relay. The star senior broke the Patriot League record in both the 60-meter hurdles and the 500-meter dash, with times of 8:57 and 1:11.94, respectively.
Sophomore Lovie Burleson won her second consecutive gold in the long jump with a leap of 5.84 meters. The Murrieta, California native also won a second straight gold in the triple jump en route to being named Patriot League Female Field Athlete of the Meet.
On the men's side, superstar senior Cameron Williams broke the BU and Patriot League record in the 200-meter dash with a time of 20.57 seconds, the fifth fastest time in the country this season.
Senior David Oluwadara won the triple jump event for the third straight year and freshman Paul Luevano won gold in the 3000-meter dash.
Swimming and diving finish strong at Patriot League Championships
The Boston University men's and women's swimming and diving teams finished third and fourth, respectively in the Patriot League Championships over President's Day Weekend.
The men's side was led by sophomore Trevor Winans, who broke two program records during the meet.
The Orland Park, Illinois native broke the school record in the 200-meter free during his portion of the 800 free relay. Winans followed that up by breaking the school record in the 500-meter free, as he finished in second place.
Junior Garrett Chin and freshman Tommy Haggerty also performed well to carry the Terriers to a third-place finish.
Meanwhile, the women's swimming and diving team finished fourth, thanks to the performance of junior Kyra Tatlow. The pride of Mesa, Arizona, Tatlow became the first Patriot League diver to sweep the one-meter and three-meter titles since 2011, which earned her the Patriot League Diver of the Meet title.
BU had the third and fourth place finishers in both the 1650-meter free and the 200-meter breaststroke.