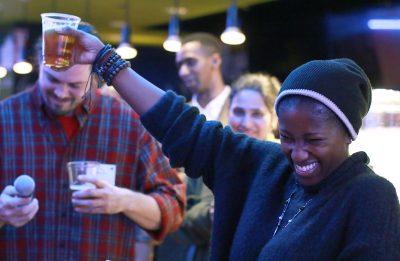 Dozens of tech leaders and entrepreneurs gathered for discussions and celebration under the glow of LED lights at District Hall on Thursday night for "CODE RED Official Launch: Minorities and Diversity Advocates in Tech." Their goal: to create communities where underrepresented and minority leaders in the tech industry, and those who already promote diversity and inclusion in their companies, could gather to discuss solutions to better advance inclusivity and diversity in the tech industry.
"I wanted to make sure that the leaders that are driving those initiatives are aware of each other," said CODE RED founding board member and Massachusetts Institute of Technology graduate Adaora Asala. "That they get support and that they connect and forge partnerships and collaborations that can take our communities forward."
Volunteers and organizers mingled with attendees throughout the evening, helping everyone to meet and exchange ideas with fellow tech leaders looking to forward the initiative of CODE RED.
"This is all about connecting them to the resources they need within the community in Boston to help them prosper and help the movement prosper," said Jacob Lewin, 32, of Boston, who is a volunteer.
Many of the guests attending said they wanted to discover ways to improve their company's approach to diversity by exchanging ideas with other local tech representatives. Some attended the launch of CODE RED to provide support for the community in any way they could.
"Tech is really about solving problems," said Kristofer Mondlane, 30, of Cambridge. "A lot of businesses miss out because they don't get a different look on how people perceive things."
Mondlane emphasized that, with the diversity of societies around the world, companies often exclude large amounts of people globally when they cater to a single demographic within the industry. As a founder of tech companies, including SnowBlack, Mondlane said he attended the launch to advocate for the continued expansion of diversity and inclusion in the tech sector.
"It's 90 percent support, 10 percent network," Mondlane said.
The atmosphere of the event mirrored the mission statement of CODE RED throughout the night. From pronoun-personalized name tags to the venue's gender-neutral restrooms, community and individuality seemed to be the underlying themes of the launch.
"Events like this are so important to create a dialogue," said volunteer Carina Ensminger, a junior web designer at Yelling Mule. "It's important to make these spaces accessible and safe for everyone."
Inclusivity was an ever-present discussion point brought up by attendees throughout the evening. Advocating for a safe workplace where employees can express their perspectives and still have the same opportunities as everyone else was one of the major components of the CODE RED movement. Some in attendance considered this to be an important element for successful diversification in any industry.
"Often times there are events for certain groups of people and [CODE RED is] trying to bring a big umbrella group of people together," said William Younker, director of young investor strategy at Fidelity Investments in Boston.
For several hours the lounge of District Hall was filled with exuberance as attendees and volunteers exchanged ideas over a variety of mixed drinks and exquisite hors d'oeuvres. Despite the tone of the evening being that of a celebration, conversations focused on ways to continue promoting diversity.
Going forward, CODE RED has begun to implement a local business structure in Boston which it will mimic in other cities.
"This is what diversity looks like," said Asala to the cheering crowd.
Followed by an enthusiastic applause, Asala concluded the evening with a promise and a toast: "This is just the beginning."