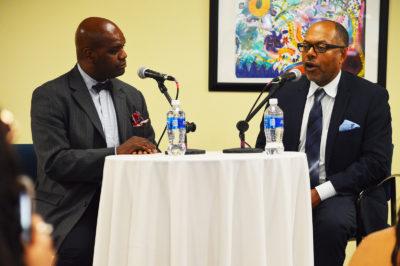 ESPN Senior Vice President Kevin Merida sat down with Dean of Students Kenneth Elmore at the Howard Thurman Center for Common Ground on Wednesday evening to discuss the impact of the recent protests in Charlottesville on the sports industry, in front of a crowd of more than 20 Boston University students and faculty.
After the racially-charged "Unite the Right" rally in Charlottesville last month, professional sports events continue to serve as a platform for players to make social commentary, said Pedro Falci, the HTC director.
"The event, in particular, may have taken the conversation and the discourse on racial tensions to a new level," Falci said before the talk.
Falci, who organized the talk, said he hoped attendees take away that there are multiple sides to every news story.
"The conversation is important on a human level because … we need to figure out ways to move forward and bring some healing to this country," Falci said. "We're trying to present opportunities to get multiple perspectives on how we do this."
Elmore facilitated the talk with Merida, a 1979 College of Communication alumnus and the current editor-in-chief of the sports, culture and lifestyle website Undefeated.
At the beginning of the conversation, Merida made the point that while there had long been discussion about issues dividing the country pre-Charlottesville, the rally certainly added to this narrative.
"Charlottesville was another flashpoint that got people thinking about division," Merida said. "Athletes were outspoken about what happened there."
However, he noted that athletes have always engaged in and cared about hot-button issues beyond the realm of sports.
"There always have been athletes that care about things beyond sports," Merida said, "[but] that's amplified now because we're in the midst of the digital era and revolution."
One such example is the controversy surrounding football quarterback Colin Kaepernick's quiet protesting, he sits or kneels during the national anthem at football games, which Merida suggested resulted in Kaepernick's unemployment this football season. Even though Kaepernick won't be on the field this year, the discussion he's started — around policing and racial inequality — isn't going away anytime soon.
Merida said protests like these present an interesting challenge, as the media tends to divert attention from the reason behind the protest and instead focuses on incidental issues.
"The whole protest got distorted because it became a debate around the anthem and patriotism or the lack of it," Merida said. "It just became something that was not a part of where we started."
Merida noted that in all of his time working in sports media, he has never seen so many sports stars speaking up on racial and social issues — despite the fact that they may lose endorsements and their job.
"I think they're recognizing the power that they have," Merida said.
Several students in attendance said they thought discussions like these provide an essential perspective on important issues.
Carmelle Dagmi, a COM junior, said she came to the talk because she's an avid sports fan and she said she enjoyed hearing what Merida had to say.
"It sounded like an interesting topic, especially someone from ESPN to talk about his opinion," Dagmi said. "I liked hearing the different opinions.
Another self-proclaimed sports enthusiast Ariel Stein said she thinks there's still a lot to explore in the context of social justice and athletes.
"Athletes have such a strong influence on the general public," the COM junior said. "Their behavior can have a huge impact in terms of being socially aware and in terms of inspiring fans to make their own impact."
Brian Privett, a freshman in the College of Arts and Sciences, said he thought it was fascinating to hear the opinion of a professional in the field, and that conversations like these are important given the current political climate.
"It's a new time for journalism and the media, and I think it's sort of an experiment," Privett said. "We'll see how that makes for things in the future."