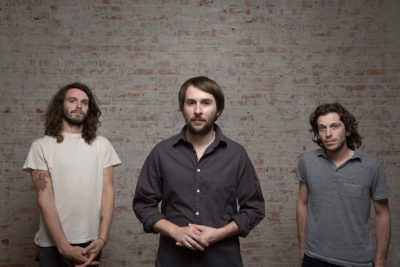 Indie-folk band Good Old War began their journey to travel the world and share their music began nine years ago in Boston for their first live performance. Now, the Philadelphia-based band returns to Beantown for another round with an evolved sound.
The three-man band will perform at the House of Blues this Friday at 7 p.m. with Josh Ritter and The Royal City Band. With a fresh EP, "Part of Me," released this fall, Keith Goodwin, Tim Arnold and Dan Schwartz will arrive to the city with new music and some classic tunes.
"The biggest evolution is learning how to do what we want to do and it actually becoming us naturally," said Schwartz of their growth as musicians in a phone interview with The Daily Free Press.
In order to achieve that immersion, Good Old War practices every day for a majority of the day. Instead of a 9 to 5 workday in a fluorescent-lit cubicle, these extended periods of instrumental and vocal practice are their occupation.
"It's been our dream our whole lives and we said we're going to be able to survive making music," Schwartz said. "We're going to practice all the time."
Preparing for a record means playing each song repeatedly — and getting ready for a tour exemplifies the same amount of discipline.
"We will basically run a set as many times as we can fit into a day, until our voices can't handle it anymore," Schwartz said.
Their 20-stop tour will run on the endurance built up from these preparations, exploring the East Coast, Midwest, and even reaching Texas during their first performance. For the entirety of the tour, Schwartz said the band refrains from consuming alcohol and drugs for Arnold, who is in recovery.
With a look at creating the material for the tour, Great Old War runs on mutual contribution on all fronts. Goodwin and Schwartz alternate between writing songs and combine their separate efforts into a mixed melody.
"If anybody feels like they can contribute, they're welcome to because we trust each other a lot," Schwartz said.
If any member of the group has a particular connection to a piece, they can incorporate their stories into it, he said.
Simplicity reigns in communicating the band's messages and music with the audience.
"The best music that we've ever made is us sitting down and playing and that's the sound that happens. The way that the instruments interact is just us, it's the three of us," Schwartz said.
In terms of musical inspiration, the band listened to the great vocal bands of the '60s but continues to derive ideas from any kind of music. Schwartz said he likes listening to rock band Queens of the Stone Age, although he acknowledged it as an unexpected choice.
"There's always going to be songs where you go, 'Ooo, I like that idea,' but it's always going to be through our filter," Schwartz said.
Outside of music, the members manage to keep themselves busy. Arnold and Goodwin have children and Schwartz said he enjoys climbing and hiking with his wife.
"Our entire lives are dedicated to music," Schwartz said. "The only reason I found climbing was to find something I could dedicate myself to besides music."
Reflecting upon nine years of experience in the music industry, Schwartz lent a few words of advice to up-and-coming musicians.
"Just get good. That would be my number one thing," he said, emphasizing the importance of developing necessary musical skills.
With the tour consuming the band until December, Schwartz said that there are still new projects for the future, including two new EPs that will debut soon.
Ultimately, Schwartz said he wants the tour to give people the chance to enjoy themselves for a little while.
"That's like our mission statement — to make people happy," he said. "We're entertainment, you know?"