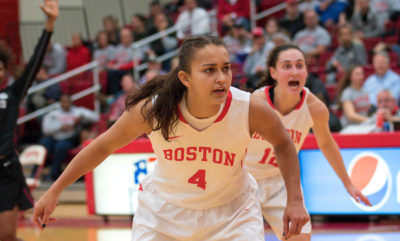 The Boston University women's basketball team has withstood two polar opposite performances in their opening contests.
The Terriers (1-1) topped the Northeastern Huskies 74-73 at home in the season opener before falling to the University of New Hampshire 72-57 at New Hampshire's Lundholm Gymnasium.
A Sunday afternoon matchup at the University of Delaware is next on the Terriers slate, who look to reach their second nonconference win a month earlier than last season.
" It's important to correct mistakes like turnovers and less than perfect execution and then apply those changes right away as we prepare for Delaware," BU head coach Katy Steding said.
The Blue Hens (2-1) come off a win against Hartford. Junior forward Nicole Enabosi netted 22 points enroute to a 72-63 victory.
Delaware eclipsed the 70-point mark in consecutive games for the first time since February of 2015. Despite shooting under 20 percent from the beyond the arc, the Terriers anticipate having to stop a surging offense.
"They're athletic and fast, and want to play that way," Steding said. "So keeping the tempo in our favor, limiting their top players and rebounding will all be critical to the success we are seeking."
Enabosi leads the Blue Hens averaging 20 points and 13 rebounds per game shooting at a 77.8 percent mark from the field. Forwards in senior Makeda Nicholas and sophomore Samone DeFreese are also in double figures at 15 and 10 points per game respectively.
Junior guard Payton Hauck leads the Terriers at 19.5 points per game. Senior center Sophie Beaudry and sophomore forward Nia Irving are also playing well early, averaging 13 and 11 points per game respectively.
Irving comes off a 14-point, nine-rebound performance, connecting on all eight of her free throw attempts.
"Nia is a pretty talented and tenacious competitor and loves the 1/1 matchups," Steding said. " She excels in space and is really good about drawing contact and finishing, getting to the line and making teams pay for fouls."
The Terriers have started Beaudry and Hauck along with seniors Corrinne Williams, Kara Sheftic and freshman Katie Nelson in both games.
Nelson had a spectacular collegiate debut, registering nine points, five rebounds and eight assists while connecting on all three of her three point tries. She struggled with in the second game, going just 2-12 from the field.
The Falmouth native did contribute four steals and cut her turnovers in half, finding other ways to contribute on a night where no one shot particularly well. BU shot just 31.4 percent from the field.
Their biggest struggle has been controlling the ball. The Terriers coughed it up a combined 45 times in their first two games. Steding said they must limit turnovers if they want to be successful.
"It's really important," Steding said. "I want to quickly move forward [after mistakes] during the game."