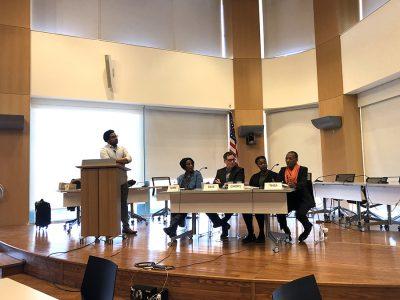 Black Bostonians experience higher rates of morbidity and mortality from numerous common conditions, including obesity, HIV, diabetes and asthma, according to the Boston Public Health Commission's Health of Boston report for 2016-2017.
The report, released Feb. 8, also found that the premature mortality rate for black residents was 31 percent higher than the rate for white residents in 2015.
Jonathan Jackson, a neurologist at Massachusetts General Hospital, has not trained as a public health expert, but when he sees numbers like these, he said, he has to do something to try to fix racial disparities in the health care system.
That's why Jackson started the event series Black Health Month, formerly known as Black Lives Matter in Health, Too. He said he wants to spread the word that there are actions African-Americans can take to improve their own health outcomes despite a historically racist system.
"The point of the event series is to promote black health empowerment and more specifically, individual health empowerment," Jackson told The Daily Free Press. "The idea is that when it comes to your health and the health of your loved ones, you're not powerless."
The last of three Black Health Month events took place on Saturday at the Bruce C. Bolling Municipal Building in Dudley Square. The "town hall" featured a panel of three Boston health care experts and one black cancer survivor who was treated at MGH, with time at the end for questions from the community members in attendance.
David Ryan, a panelist and gastrointestinal oncologist at MGH, said the key to removing barriers to health equity in the black community is by listening to actual patients, and a town hall like Saturday's was a great way to hear from them.
"I think that it's incredibly important to hear from the patients directly and hear the struggles that people have in the real world," Ryan told The Daily Free Press. "Sometimes working in a health institution, you can feel isolated … from the struggles that people are going through."
Sometimes, making patients feel more comfortable and open to receiving care is as simple as hiring a more diverse staff, said Bernadette Macon-Bell, another panelist. Macon-Bell received radiation treatment for breast cancer at MGH in 2015. She said she could make the choice between receiving treatment at MGH or Boston Medical Center, and she didn't want to be "just another woman of color" at BMC.
"When you walk into a hospital or a doctor's office, I think it's important to have somebody familiar because we live in a world that is so colorful that it's inexcusable to go into any facility and not have a person [of color]," Macon-Bell told The Daily Free Press.
Jackson, who moderated the panel, said he wanted to focus on disparities in research in particular because most of the research participants at MGH are older, white and upper class.
During the panel, he said that despite Boston being a majority-minority city for more than two decades, the individuals who come in to MGH for treatment and to participate in research do not reflect the diversity of the city.
Eoin Bradley, a pre-med student at the Harvard Extension School who attended the panel, said it is important for researchers to be "upfront and transparent" when trying to recruit participants.
"I'm working with a lot of organizers in Boston who are talking about strategic goals and I'm like, 'Well, what if we just talk to the community?'" Bradley said.
Jackson said attitudes about black health in Boston have changed over the past year since Donald Trump became president because he has been able to implement a "racist" agenda based on systemic issues that have "always been there."
"Because Boston is located in a northern state that largely considers itself free of these biases and free of these systems, it has been a bit harder to advance the conversation locally," Jackson said. "But I think that there is a new fervor and fire in the community to push for these things."
As somebody who grew up in a poor immigrant family in Brooklyn, Beverly Moy said she understands what it means to be part of an underserved population. She is now the director of community outreach for the MGH Cancer Center and the clinical director of breast oncology. Moy helped Jackson organize Black Health Month.
"We have to be responsible in health care to make sure that every person has access to quality health care, and I feel like now I have the opportunity and a platform to do it," Moy said. "It's personal."
Jackson said the Black Health Month series is a way to respect the community he is trying to serve by informing them about issues they should care about.
"Even though this is not what I originally envisioned spending my career doing, I recognize that there is a profound need within the black community, and I recognize that if we can't get communities of color on board for research, [they] will be left behind for decades to come," Jackson said. "We have to find a way to fix this, because time is really of the essence."