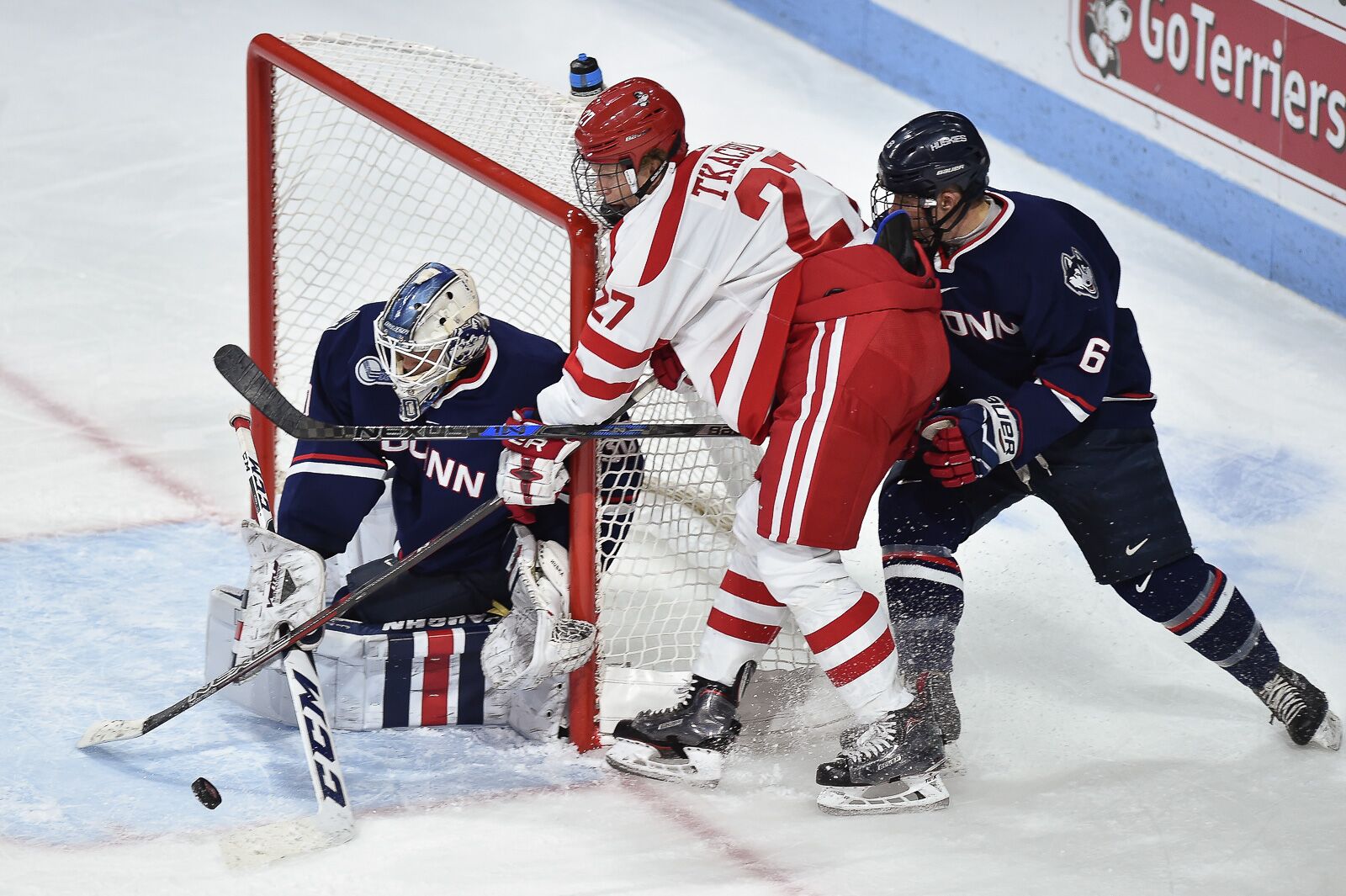 After 34 regular season games, playoff hockey season has finally arrived. The No. 20 Boston University men's hockey team secured the No. 4 seed and home ice for the best-of-three Hockey East quarterfinals, and will host the No. 5 seed University of Connecticut this weekend.
The Terriers (17-13-4, 12-8-4 Hockey East) have faced off against the Huskies (15-17-2, 11-12-1 Hockey East) three times this season, posting a 1-1-1 record.
BU head coach David Quinn said there aren't going to be many surprises since his team last played UConn three weeks ago.
"It's going to be hockey," Quinn said. "It's going to be winning foot races, winning puck battles, being responsible structurally."
In the two teams' home-and-home series back in October, the Terriers took home three of four points after a 2-2 tie at Agganis Arena and a 6-3 win at the XL Center.
However on Feb. 16, the Huskies battled back from a 3-1 deficit during the third period and junior forward Maxim Letunov, UConn's leading scorer, tallied the game-winning goal for his team in overtime.
Letunov currently leads his team in points and assists with 27 and 16, respectively.
Forwards senior Spencer Naas and sophomore Alexander Payusov follow closely behind in scoring and are tied for most goals on the team with 12 apiece.
"They've got an older veteran team, they've got some high-end players, they're very well coached and it's certainly going to be a challenge for us," Quinn said.
Much like the Terriers, the Huskies struggled in their season early on, but accumulated a seven-game win streak at the end of the regular season, which included wins against the top four teams in the conference — Boston College, Northeastern University, Providence College and BU.
In UConn's final regular season matchup, a goal from the University of Massachusetts Amherst's freshman defenseman Cale Makar with 68 seconds remaining in regulation effectively ended the team's winning streak.
"Well they've gotten better and better as the year's gone on without question," Quinn said. "I mean they were probably the hottest team in our league at the end of the year … They went on that run and it wasn't surprising because there's such a fine line between winning and losing at this level, and they just turned it up a notch."
A player that was integral for UConn during this stretch was senior goaltender Tanner Creel, who has been in between the pipes for the team's past nine games. Creel currently has a .891 goal save percentage and 3.20 goals against average on the year.
The Huskies' main goaltender, sophomore Adam Huska, has been out since mid-January due to an injury — but UConn head coach Mike Cavanaugh said Huska is healthy and "as of right now we haven't made a decision of who is going to play on Friday night."
"We're very fortunate that we have two goaltenders we feel very confident in," Cavanaugh said. "Adam was doing very well before he broke his wrist and Tanner certainly played fantastic down the stretch so now that Adam's healthy, we've been watching them both."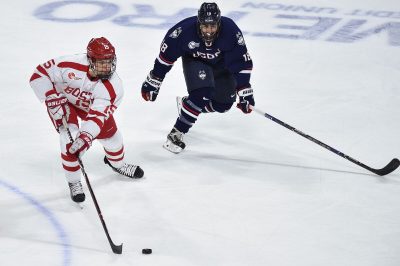 As for BU, sophomore goaltender Jake Oettinger has a .912 goal save percentage and 2.50 goals against average over 32 games. The Lakeville, Minnesota native has also been a key factor in the Terriers having a 9-2-3 record during their past 14 games.
Junior forward Bobo Carpenter leads BU with 30 points (18 goals and 12 assists). This season, Carpenter has scored six goals against the Huskies, including two short-handed goals in a single outing, and has also picked up two assists against the team.
Freshman forward Shane Bowers and junior forward Jordan Greenway follow closely behind with 27 points while sophomore defenseman Dante Fabbro and freshman forward Brady Tkachuk have 26 points each.
Quinn noted Tkachuk's help on the team's power play, which is currently 22.6 percent, and the freshman's physical style of play on the ice.
"… One thing we talk about is when the whistle blows and we're in the offensive zone and he's on ice, if there's not a scrum at the net front, he hasn't done his job," Quinn said. "Because we want to get to the net and when you do that, you tend to piss people off and that's what happens in particular with him and Greenway out there."
This will be the two teams' first-ever postseason meeting in the Hockey East tournament.
BU has a slight edge over UConn with a 2-1-2 mark at home against Huskies. The Terriers have also won 10 straight home games during conference playoffs, the longest streak in the program and the league.
In terms of national standings, BU sits at No. 20 in the USCHO Division I men's poll and No. 19 in the PairWise Rankings.
While the NCAA tournament remains on the horizon, Quinn said the team's focus is on its opponents this weekend.
"We feel good. It's good to get Greenway back from the Olympics and we're ready to go," Quinn said. "It's an exciting time of year, that's for sure."