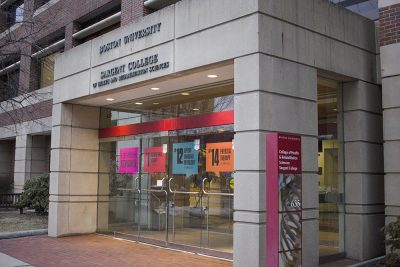 In the United States, mental health resources are often lacking or inaccessible.
For a large portion of her life, Chitra Khare, a graduate student in the Sargent College of Health and Rehabilitation Sciences, has dedicated herself to addressing this issue outside of America, namely by employing individuals with severe mental illness in her hometown of Pune, India.
"Employment is an answer to many issues that illness creates," Khare said. "I was able to see that when these people would get appropriate help, that would benefit them."
Khare is a Ph.D. candidate in Sargent studying rehabilitation sciences. She said college has driven her to seek the truth about mental illness.
"There is no apparent deformity [in mental illness patients] that one can see, but there are struggles at every point," Khare said.
While pursuing her undergraduate degree at Sir Parashurambhau College in Pune, Khare became interested in mental health. She described mental health as a "low priority area" for India, as most mental health centers are located in larger urban areas.
She grew frustrated with the limited practical experience that came with the Indian college system, and turned toward her community to seek volunteer work.
Khare spent time with various nonprofit organizations throughout her years of higher education, and later transferred her interests to working with people with schizophrenia, schizoaffective disorder, bipolar disorder and major depression.
One of her first jobs as a graduate student involved placing individuals with mental illnesses in the housekeeping department of a mall. Khare said she was moved as she witnessed this small group slowly maintain steady incomes and become independent.
"I want to help people get jobs or help them retain their jobs because the illness makes it very challenging," Khare said. "[Employment is] one thing that creates a lot of positivity, not only in these people, but also in the people around them."
Her desire to improve treatment of mental illness is what brought her to BU.
"If I want to do this on a large scale, I need to know how to develop and how to translate it into a model," Khare said.
She was first drawn to BU by the world-renown faculty whose books she read during her graduate studies. One Sargent faculty member in particular, Susan McGurk, has served as her mentor for a number of years, she said.
In an email to The Daily Free Press, McGurk remarked on Chitra's ability to "adapt and evaluate pragmatic interventions that have the potential to improve work" in India and beyond.
"[McGurk and Dr. Kim Mueser] are very much interested in what I want to do, and what will help me grow or help fulfill my dream," Khare said of her mentors.
At BU's Center for Psychiatric Rehabilitation, Khare translated the Montreal Cognitive Assessment, a screening instrument which identifies cognitive impairment, into Pune's primary language, Marathi, with the help of her mentors in 2016.
Her recent efforts have involved the development of the nonprofit TRIMTI Trust. Khare co-founded the organization in India to focus on the promotion and restoration of mental health.
The trust primarily works to employ individuals with severe mental illness, but it also offers individual counseling, psychometric testing and rehabilitation in the Pune area.
"These are ways to create awareness in society so that people start talking about mental health openly and not consider that it's a taboo," Khare said.
Khare is currently working on a three-site study involving understanding the employment status and preferences of over 700 people in India. She credits her resources to the Dudley Allen Sargent Research Fund, which has allowed her access to extensive data.
The BU Rehabilitation Sciences Ph.D. was the only program Khare applied to. She knew, she said, that it would be the perfect match for her mission.
"The reason why I have come here is to learn to liven up this employment intervention," she said. "I think I'm taking these steps which will help me achieve that goal."