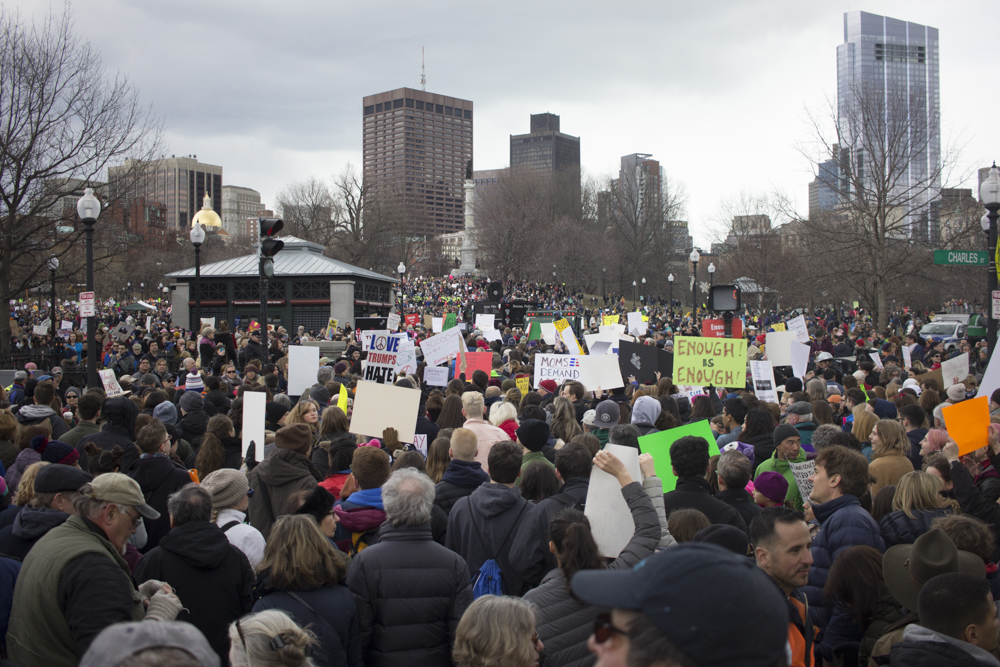 Tens of thousands crowded the Boston Common to rally against gun violence Saturday afternoon during Boston's March for Our Lives, a protest that occurred in cities across the country.
Organized in the wake of a mass shooting that killed 17 students in Parkland, Florida, the march began at Madison Park Technical Vocational High School in Roxbury and made its way to the Boston Common for the rally. Adults, teens, children and even dogs held up posters advocating for safer schools and safer streets.
Since the Parkland shooting, students have been mobilizing to participate in walkouts to stand in solidarity with victims of gun violence. March for Our Lives, the apparent culmination of such protests, was created and led by students who wished to raise the conversation of gun control to politicians.
Chants such as "Enough is enough," "Never again" and "Hey hey, ho ho, the NRA has got to go!" rang through the air Saturday.
Graciela Mohamedi, a science teacher at Rockland High School in Abington, recounted the first time she held an assault rifle as an 18-year-old in the Marine Corps.
"I had the power to protect life or end it with the pull of a trigger," Mohamedi said. "But rifles have the power not just to incapacitate enemy combatants, but innocent children and adults."
As a veteran, she said she rebukes the Trump administration's idea of arming teachers in schools to protect against shooters.
"As a vet, I can tell you that an untrained, overworked teacher with a handgun is not an effective force to stop a shooter," Mohamedi said.
Instead of providing arms, Mohamedi had a different idea for how the government should help schools.
"Arm us with books that aren't missing pages, arm us with art supplies and musical instruments to inspire creativity, arm us with buildings that aren't crumbling or infected, arm us with guidance counselors to appeal to the emotional needs of our students," she said. "Our schools are places for students to go, be inspired and find their voice."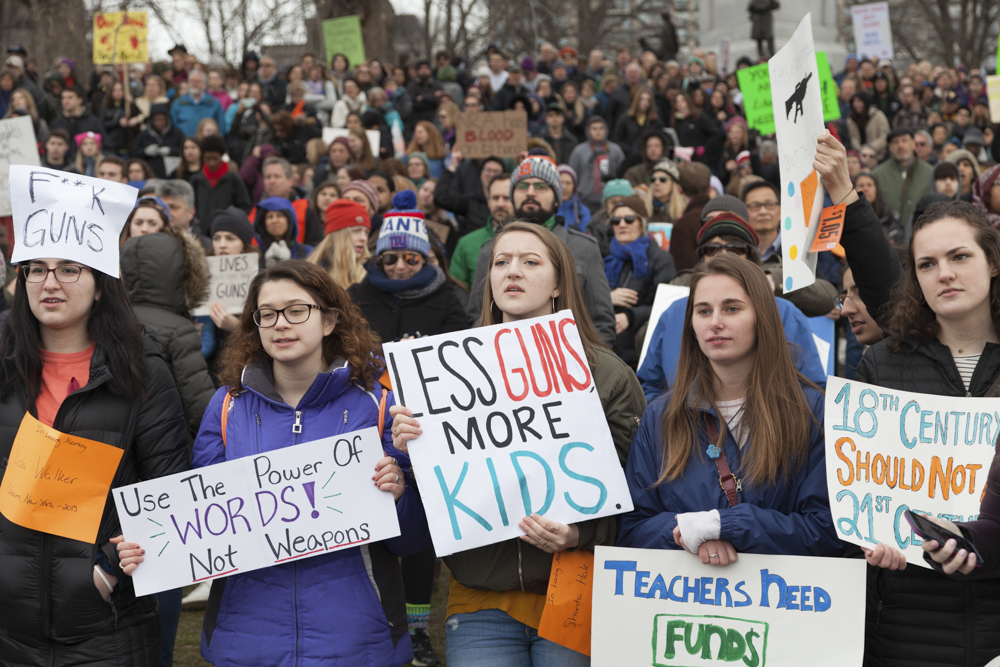 The posters held up by the outstretched arms of thousands of rallygoers often reflected Mohamedi's message. One sign stated "Give teachers books, not guns." Another read "School is meant for learning, not lockdowns." One child held a sign that said "When I said I'd rather die than go to math class, I just meant it as hyperbole."
Mike Flanary, 30, of Somerville, said he marched to stand in solidarity with his community.
"With everything going on in the country, this is something that needs to be done," Flanary said. "It's good to be here with my community, and I hope to see some response on the national level."
Rallygoers and speakers often emphasized the burden of gun violence for communities of color.
Monica Cannon-Grant, an activist from Roxbury, said in a speech during the rally that minorities face these types of challenges daily.
"What happened in Parkland was a tragedy, but gun violence is something experienced by people of color in neighborhoods every day," Cannon-Grant said. "As you stand today in solidarity, I ask you to remember that there are black and brown students dodging bullets on their way to school."
Cali White, 48, of Roxbury, said she rallied to stand together with marginalized students from underprivileged Massachusetts neighborhoods who face brutality on their streets.
"I want to make sure we start making the connection between gun violence around black and brown lives," White said in an interview.
The rally in Boston was one of 846 similar marches across the country, and one of the eight protests in Massachusetts, including locations in Plymouth, Springfield and Worcester.
Reed Shafer-Ray, a senior at Harvard University, said in a speech that because guns frequently facilitate suicide deaths in the United States, the government must step in to pass tighter gun control.
"These bills in Washington will not pass unless people in Massachusetts raise their voices so high, the legislators will have no choice but to listen," Shafer-Ray said.