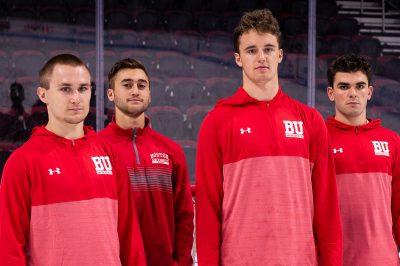 Although four players will wear letters on their sweaters this season, leadership is present throughout the No. 8 Boston University men's hockey team.
At least, that's according to junior defenseman and co-captain Dante Fabbro.
"It's such a great group of guys here that everyone is a leader [and] has a part to this," Fabbro said. "I wouldn't say it's just the four guys here with the letter on their chest — it's a team."
Along with Fabbro, senior forward Bobo Carpenter will hold the title of captain, with junior defenseman Chad Krys and junior goaltender Jake Oettinger wearing the "A."
Fabbro did face the opportunity to turn pro and sign an entry-level contract with the Nashville Predators — the team that selected him with the 17th overall pick in 2016.
However, he decided to return to Agganis Arena for his junior season, making him the last remaining BU player of four who were drafted in the 2016 first round.
"I think just with obviously a new coaching staff and the guys that were here and the guys that are coming in, it's a good opportunity for me to come back and be able to be a leader and hopefully win some more championships," Fabbro said. "I'm excited with the group we have."
This will not be the first time Fabbro has worn a letter. Most recently, Fabbro donned the "A" for Team Canada during last year's International Ice Hockey Federation World Junior Championship where the team earned a gold medal.
Fabbro did not have the Terriers too far from his heart, however, and slipped BU victory song "Hey! Baby" in as Canada's goal song.
For BU, the return of Fabbro goes a long way, not just on the ice, but also in the locker room. Last season, Fabbro earned a spot on the Hockey East Second Team and was named a New England All Star after leading Hockey East defensemen in goals with nine and finished second in points with 29.
BU head coach Albie O'Connell said he is enthusiastic about Fabbro's return, describing him as "arguably one of the best defensemen in the country."
"It's huge," O'Connell said. "Dante is a big presence in the locker room and he's a big presence on the ice. He's really competitive — carries himself well, he's got a lot of poise. I think he's going to be able to bring a lot of the younger guys along. He's got a lot of respect [as a player]."
O'Connell also had high praise for co-captain Carpenter, who was a part of the leadership group last season as an assistant captain. O'Connell said he is a "hard working, hard-nose player."
The Terriers will feature two captains for the first time since the 2013–14 season when senior defensemen Garrett Noonan and Patrick MacGregor shared the honors.
Last season, Carpenter tied for the Terriers' lead with 35 points and joined Fabbro with a selection to both the Hockey East Second Team and as a New England All Star.
Carpenter comes from a hockey family: his sister, Alex Carpenter, captained Boston College to a national championship attempt during her senior campaign and has won multiple medals while representing the United States internationally, including an Olympic silver medal in 2014, while his father, Bobby Carpenter, enjoyed an 19-season run in the NHL.
"There's definitely not a difference," Carpenter said. "You want to be the team player that you are and help anyway that you can and be a role model for the younger guys who come in and help get the wins any way possible."
Carpenter added that although he does not view himself as a vocal leader, he described Fabbro as one who "is more of a vocal guy on game days."
The assistant captains have impressive credentials of their own.
Last season, Krys ranked third in points among blueliners in the Hockey East with 27 — one spot behind Fabbro.
Oettinger led the Terriers into the NCAA Tournament while boasting a 2.45 goals-against average and a .915 save percentage, and his five shutouts finished tied for both first in the conference and fifth in the nation.
"I think me and Jake both are definitely more of the guys who keep it light in the locker room," Krys said. "Bobo is pretty serious, and that works work for him … Dante is similar in his approach."
Although four players will have letters on their chest, Krys and O'Connell said the duty of leadership expands further than just these individuals.
"Each guy brings his own flavor to the leadership, but collectively, as a group, they've been great," O'Connell said. "It's been really good for the program to get a lot of our good players who are going to be key contributes on the roster to lead."