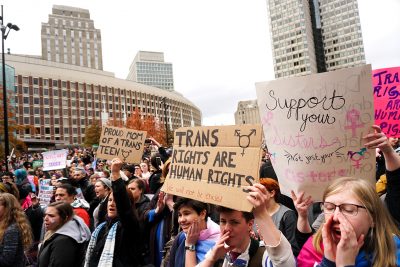 Hundreds gathered at Boston City Hall Plaza Sunday afternoon for the "Rally for Transgender Rights" to protest discrimination against transgender people.
Participants demanded that residents vote yes on ballot Question 3 and that the government protect transgender students, assign transgender prisoners to facilities that match their gender and not sex at birth, recognize gender on the basis of identity and not birth sex, allow transgender service in the military and stop detention for asylum seekers.
The rally was a partnership among Pride at Work Eastern Massachusetts, Bay State Stonewall Democrats, Massachusetts Transgender Political Coalition, Boston Democratic Socialists of America, MassEquality, National Center for Transgender Equality, Trans Lifeline, BAGLY, Boston Mayor Martin Walsh and Freedom For All Massachusetts, which is spearheading the Yes on 3 campaign.
Lorraine Wong, 23, a Greater Boston field organizer for Yes on 3, the campaign to vote yes on Question 3 to defend transgender rights, said in an interview that the state has the opportunity to make history on Nov. 6.
"I'm really excited about how many people are here, how many people are energized and how we can turn that energy into action with our campaign," Wong said, "to make sure that … we're the first state ever to uphold the transgender non-discrimination protections via statewide ballot."
Ryley Copans, founder of Stand Up, Speak Out, a non-profit dedicated to the preservation of transgender rights and speaker at the rally, said before the rally that Massachusetts has historically been a leading state in social movements and that this should not change with Question 3.
"We were the first state to bring marriage equality," Copans said. "The Affordable Care Act was heavily modeled on our health care bill, and, right now, with Question 3, we're the first state to be voting on something like this, so we're already being watched. I think that the rest of the country has its eyes on us."
Several speakers at the rally, including Leah Livingstone, who has a transgender son named Kai, said it was necessary that Massachusetts parents protect the state's transgender youth with their vote this November.
Livingstone called all the parents who were in attendance in support of their transgender children to approach the stage as she spoke.
"Any parents that are here supporting their child, please come up to the front and just fill out in the front here because you're all very important too," Livingstone said. "I support [my son] and love him with every fiber of my being, and I support and love every single one of you that are standing here today."
Massachusetts Sen. Ed Markey said during the rally that it was important to vote "yes" on Question 3. The senator said he stands for the protection of transgender service members and gave a statement in response to President Donald Trump's stance on gender identification.
"Yesterday, I felt proud to be an American because yesterday, I got to vote early, and I voted yes on 3," Markey said. "No person's life is worth less than another's because of who they are or who they love. Donald Trump is wrong. You cannot make America great again by making America hate again."
Markey encouraged those in attendance to make their voices heard on the ballots for the upcoming midterm elections.
"We know, here in Massachusetts, that transgender won't be erased," Markey said. "We will fight for laws that treat everyone fairly and equally. Trans is about transcending hate, and on election day, trans is about transferring power, taking it away from those who block legislation and progress and putting into the hands of all of those who celebrate diversity and equal rights."
Alyssa Krupczak, 37, said after the rally that she thought it was a nice gathering that showed Massachusetts' transgender population that they were supported.
"I'm here today because this is really important to me," the Somerville resident said. "I have a lot of very close transgender friends. These are dark times, and we need to be there for each other."
Alexandra Zafris, deputy director of scheduling for the Mayor's Office, introduced Walsh to the audience at the rally and spoke about her experience being transgender.
"Last year, in March of 2017, I came out to my employer as a transgender woman," Zafris said, referring to Walsh. "I sat in my boss' office and spilled my guts, and his response was simple: he was excited to meet the real me."
Walsh said people should be putting humanity behind the preservation of transgender rights and accomodations in Massachusetts.
"What I'm here to say is that on Nov. 6, we have a serious question in front of us, and that's Question 3," Walsh said. "We need to make sure that we put a face with that question. We need to make sure we put love with that question. We need to make sure that people understand that there's human beings behind that question."