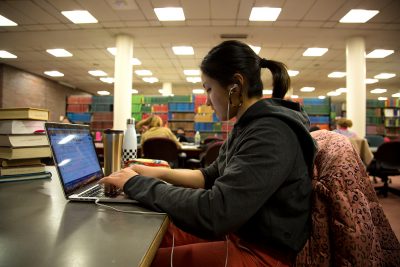 Boston University's Student Government is providing additional study spaces around the Charles River and Fenway Campuses during the study period and finals week.
SG President Devin Harvin wrote in an email that this change will help manage the high demand for study space that begins during the study period.
All three dining halls on the Charles River Campus — Marciano Commons, Warren Towers and West Campus — will be open from 9 p.m. to 2 a.m. Dec. 16 through Dec. 20, according to an SG press release. The Fenway Campus Center Dining Room will have the same extended hours Dec. 17 through Dec. 20.
Dining services will not be provided during these extended hours, but food may be available for purchase. Coffee will also be provided in these study spaces, according to BU spokesperson Colin Riley.
In addition to the university's dining halls, certain basement classrooms in the College of Arts and Sciences will be open for student use all day Thursday and Friday.
The Metcalf Ballroom will be open all day during finals period, and SG will host "R&R" programming there from 10 a.m. to 9 p.m. Friday and Saturday. The formal programming will provide "a space for students to relax, read, research, and re-engage with one another in the midst of finals season," according to the event's Facebook page.
Harvin's E-board platform included providing additional study spaces for students, and he wrote that he sees this initiative as a step toward achieving that goal.
The idea is part of "a larger attempt to combat the narrative of isolation and sadness during finals week," Harvin wrote.
"We hope this spaces can allow community to arise in all of these locations," he wrote. "In combination with our program, R&R … we want the students at BU to know that the community is still here for them."
SG Press Secretary Sydney Gullett wrote in an email that providing additional study spaces was one of SG's priorities because they wanted to increase options for students.
"This way, we cater to more students and their study habits and also their preferences for places to study around campus," she wrote.
Riley said he appreciates the collaboration between university services required to open up more study spaces and hopes the initiative will be well-received.
"I think it's terrific that the people in Auxiliary Services and Dining were able to make that accomodation," Riley said. "It's a new idea. Great to be able to work with Student Government on it."
CAS senior Riley Hanson said he has seen the need for more space throughout his years at BU.
"It's definitely a good idea, because Mugar is always overflowing," he said. "Every year, if you don't get there early in the morning, everything's going to be gone."
CAS freshman Sushane Sharma said he believes the initiative is positive, because he thinks Mugar Memorial Library is not the best study space for all BU students.
"Mugar is not enough, and it may not be the ideal workspace just because of the vibe or even the space," Sharma said. "So we should definitely open up more locations for studying, and the dining halls would serve as great places for that."
College of Fine Arts freshman Evelyn Bi voiced a similar opinion, and said she does not study in Mugar because she finds it "depressing."
"I think [the dining halls] would be less depressing because it's not as much of an academic atmosphere," Bi said.
Bi said she appreciates SG for coming up with the idea of providing additional study spaces.
"That's really considerate for them to realize that sometimes there is not enough space and to open up this space to be more convenient," she said. "I think that's really nice."