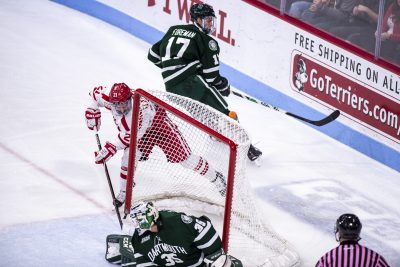 Despite injuries, the Boston University men's hockey team defeated Dartmouth College 4-1 Friday night in its last game of 2018.
"Overall, it was a really gutsy win," BU head coach Albie O'Connell said. "We were down a lot of bodies."
BU (6-8-2, 5-5-2 Hockey East) scored first less than five minutes into the first period.
Less than 24 hours after being cut from Team Canada's squad for the International Ice Hockey Federations' World Junior Championship, sophomore defenseman Cam Crotty gave the Terriers a 1-0 lead.
Junior forward Patrick Curry found Crotty who proceeded to deke out Dartmouth (4-6-1, 4-2-1 ECAC) goaltender Adrian Clark and deposit the puck in the net at 4:52 in the period.
Freshman forward Jack DeBoer recorded an assist. The goal marked Crotty's second tally of the season, eclipsing his freshman year total of one goal.
It took until midway into the second period for Dartmouth to light the lamp.
Forward Cam Strong carried the puck into BU's zone and sent a pass to forward and captain Kevan Kilistoff in the slot. The Langley, British Columbia, native beat Terrier junior goaltender and assistant captain Jake Oettinger to tie the contest 1-1 at 10:06 in the period.
The Terriers responded just over a minute later.
Junior forward Patrick Harper found himself on a breakaway after intercepting a pass from Big Green forward Quin Foreman. The New Canaan, Connecticut, native found the back of the net to put BU up 2-1 at 11:10 in the second.  
"Patrick Harper looked like Patrick Harper. It was nice to see that," O'Connell said. "Especially for him to get a goal and for him to get hot could be good."
Harper said after the game that scoring a goal "feels great."
"[I'm] just happy I can contribute to the teams' success and get a win here, and hopefully we can get rolling for the second half of the season," Harper said. "We don't play for a while, so that W felt really nice."
BU added to its lead in the third period.
Harper skated up the right wing and sent the puck to sophomore forward Ty Amonte. Amonte connected on the one-timer to give BU a 3-1 lead with 4:22 left in regulation.
Sophomore defenseman David Farrance added an assist.
The Terriers struck once more.
With the Dartmouth net empty, freshman forward Joel Farabee added the fourth and final tally for the Terriers at 18:37 in the period.
Graduate transfer forward Max Willman and freshman forward Matt Quercia added assists.
Oettinger ended the game making 33 saves off 34 shots.
Senior forward and captain Bobo Carpenter sat the game out after he was was scratched due to an injury moments before the puck dropped in the first period.
"Bobo tried to give it a go during warmups," O'Connell said. "He couldn't go, he's pretty hurt."
O'Connell noted that Carpenter's injury is not considered serious and that "he should be fine."
The Terriers are off until Jan. 8, when they take on Harvard University in their first game back from the semester break.
O'Connell noted that although his team is dealing with injuries, O'Connell is happy with how his team played.
"[I'm] really proud of the way they played," O'Connell said. "It was a great way to end the semester, getting a non-conference win. …It was good for the mentality, good for the program and good for the guys to go on the break on a happy note."