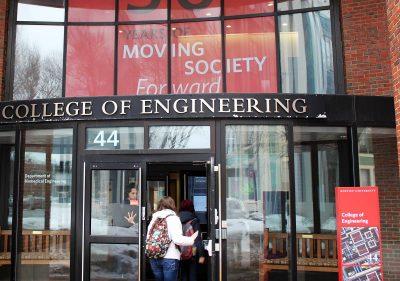 Boston University professor Eric Schwartz died on Dec. 31 following an illness at age 71. The professor in the Department of Electrical and Computer Engineering will be remembered for his work in computational neuroscience and his impact on his students.
Stephen Grossberg, a professor of mathematics and psychology in the College of Engineering, hired Schwartz to BU's former Department of Cognitive and Neural Systems and said in an email that he believed Schwartz was a talented professor and researcher.
"Eric was a devoted and inspiring teacher to most of our students, since he taught core courses to which they flocked," Grossberg wrote in an email. "Eric's work beautifully illustrated the interdisciplinary goals of our unique department."
The goal of the Cognitive and Neural Systems department, Grossberg wrote, was to understand the human brain and mind using unique models and algorithms, as well as to further engineering and technology with new findings.
"Eric's training in theoretical physics, his research as an experimental neurophysiologist, and his development of biological neural models of the visual cortex beautifully illustrated this kind of symbiosis," he wrote,
Grossberg wrote that Schwartz was passionately committed to his scientific research and to teaching and training his students.
"He was a delight to talk to about any number of subjects," he wrote. "I also personally loved his often dark sense of humor, which he usually kept under control!"
The Cognitive and Neural Systems department's activities were reorganized into new departments as BU expanded its involvement in neuroscience, and Schwartz joined the Department of Neuroscience and the Department of Electrical and Computer Engineering.
David Castañón, a professor of electrical and computer engineering, worked with Schwartz on occasion and said Schwartz was an expert in his field, which included researching human vision and developing technology to understand and replicate it.
"The things that surprised me were not only did he have a very deep theoretical insight into computer vision and how to represent it in mathematical algorithms," Castañón said, "but he could actually build hardware that tended to view things the same as a human eye."
The techniques that Schwartz pioneered, Castañón said, were unlike anything usually found in the engineering field.
"In normal engineering, we tend to sample things very regularly," Castañón said, "but the human eye tends to sample things very irregularly, and Erik built a whole signal processing theory that would work with the way that the human eye sampled."
Leo Grady, a former doctorate student of Schwartz, said that Schwartz was very influential on him.
"When I arrived at BU as a PhD student, Eric struck me very early on as different than the other professors," Grady wrote in an email. "Eric had truly incredible range as a scientist. …Eric demanded that his students stretch themselves and learn all these skills as well, never letting any of us allow ourselves to become experts in only one isolated area."
Grady also said the training Schwartz gave him in biology, artificial intelligence, vision, physics and applied mathematics is still central to the work he does today.
"More importantly," Grady wrote, "he taught me how to think critically, fearlessly challenge the assumptions of the scientific community and drive scientific advances through relentless experiment."
Jackson Gravagno, a freshman in the College of General Studies, said that although she didn't know much about Schwartz's field, she believed in the importance of studying and teaching the sciences.
"It sounds like super important work to be doing," Gravagno said. "Especially I think there's a lot of subconscious parts of what our vision is attracted to that we often don't put active thought into. More properly understanding that could definitely lead to better understanding of how our mind works without our control."
Brian Artabane, a junior in the College of Arts and Sciences, said Schwartz's dedication to continuing the study and practice of anatomy and biology was impressive.
"That's obviously an interesting field," he said. "Any kind of field that continues to study anatomy is important. I think it's huge that they're continuing that research, and not just thinking, 'We have this information, and that's enough.'"