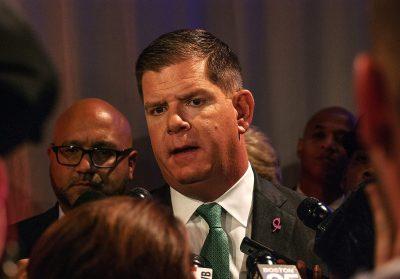 Boston Mayor Martin Walsh announced Monday a $100,000 outreach campaign to bolster the City's forthcoming efforts to count every one of its residents in the 2020 U.S. Census.
The campaign, launched at the East Boston branch of the Boston Public Library exactly one year before the census count begins on April 1, 2020, will help Boston-based organizations better reach out to their communities and stimulate participation in the census, according to a press release from Walsh's office.
These funds will be included in the Mayor's fiscal year 2020 budget, the release stated, and will support the work of City agencies and local groups in reaching populations such as recent immigrants, renters and college students.
Walsh said in the release he is launching an outreach campaign a year before the census count begins to make sure all of Boston's residents are accounted for.
"We have been hearing threats from Washington to use the 2020 Census as another weapon to intimidate residents and weaken our democracy," Walsh said. "This is unacceptable at a time when our representation and federal funding are at stake."
The campaign, called Boston Counts 2020, highlights on its website that even if the census includes a citizenship question, it would be safe for everyone to answer since census data cannot legally be shared with any government or individual entity, including U.S. Immigration and Customs Enforcement.
A low census count can be detrimental to the state, as data collected during this process determines U.S. Congressional representation, redistricting and federal funding for programs such as healthcare, education and housing, according to the City's website.
Massachusetts loses about $2,400 in federal funds for every person who is not counted in the census, Walsh's release stated.
Marion Davis, a spokesperson for the Massachusetts Immigrant and Refugee Advocacy Coalition, one of the nonprofit organizations participating in the outreach campaign, said Massachusetts has lost about 100,000 native-born residents since the last census and has gained 300,000 immigrant residents since then, without counting undocumented immigrants.
"We know that our population is growing, but it's growing only because of foreign-born people," Davis said. "So if we miss foreign-born people, we're going to be completely distorted, the numbers are just going to be so far off."
Jasmine Gomez, the program director at Access Strategies Fund, which recently donated $500,000 to 44 different organizations, said a network of people spreading information about the safety of census data would be the most effective way to maximize Boston's participation.
"The folks who are least likely to participate are the people who are already disadvantaged because of systems of oppression," Gomez said. "We are working really tightly with the community to try and support trusted messengers, people who are on the ground, who the community knows and trusts, to share the information."
Another challenge Boston faces in counting everyone for the census is the city's large student population, according to Peter Ciurczak, a research associate at Boston Indicators.
"People living in dorms are actually really much less likely to respond to the census than your traditional householder," Ciurczak said.
Patrick Hammond, 31, of Back Bay, said he supports the Mayor's outreach campaign and understands why people would not be inclined to fill out the census without it.
"I would be scared to give my information if I thought I was going to get deported by doing so," Hammond said, "so it makes sense."
Amanda Hampton, 19, of Back Bay, said she thinks Walsh's initiative was a good idea — especially in response to President Donald Trump's decision to potentially include the question on immigration status in 2020's census.
"That seems like a good investment, it seems like it's better to know what the population actually is," Hampton said. "I don't agree with the citizenship question. I'm lucky enough that it doesn't affect me."