A relatively new face to alternative rock, Sarah Grace McLaughlin, better known as Bishop Briggs, released her second studio album "CHAMPION" Friday.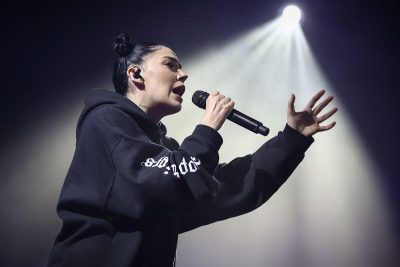 Briggs' debut album, last year's "Church of Scars," faced criticism for its repetitive lyricism and simplistic production. Briggs' upcoming release appears to have taken these comments to heart, amping up not only the instrumentation but also her sincerity in what feels like her most honest piece yet.
While "Church of Scars" kept instrumentation sparse in order to showcase Briggs' raw and soulful voice, "CHAMPION" juxtaposes bare-bone and head-banging beats to emphasize the self-realization that comes with heartbreak.
Right off the bat, "I STILL LOVE YOU" showcases this with a simultaneous heavy bass and simple piano tune behind Brigg's clear voice as she croons about the limbo she's stuck in while trying to get over someone she still loves. 
However, Briggs seems to have found the light at the end of the tunnel in the album's eponymous track "CHAMPION." Here, in the album's most empowering anthem, Briggs comes to the realization that, despite being cliche, sometimes what doesn't kill you really does make you stronger. 
With her spirit revived, Briggs shows off the full capacity of her vocal range and surprises fans with "Church of Stars" with her intense high notes. 
The high continues with "TATTOOED ON MY HEART," an upbeat and peppy track that sounds like something you would hear from a church choir. The song is refreshing in an album that's so dark and depressing.
Right when you think that Briggs had regained her sense of direction in life thanks to the uplifting "CHAMPION," things suddenly takes a 180-degree turn back to anguish with "SOMEONE ELSE." 
It's her way of saying that even when you feel like you're on top of the world, the world will always have its way of kicking you down. "SOMEONE ELSE" sounds like an angry Lana Del Rey, but instead of basking in the pain, it's a firm and complete rejection of her reality that only bodes turmoil.
Personal growth has shaped the maturity in sound of this album, which is clear to see in the soulful renditions of "JEKYLL & HYDE" and "LONELY." Briggs confronts her own emotions and acts accordingly, listening to her own desires in an attempt to understand its complexity. 
This is sometimes hard to do, especially when she's with someone who consumes her identity and dictates her worth. In "MY SHINE," Briggs reclaims this as she chants, "God forbid I make cool shit / God forbid I got more cash / God forbid I'm independent/ God forbid I talk like that." 
"CHAMPION" gets increasingly personal with each track but the best is saved for last in "I TRIED," the album's most sincere track. Equipped with just a guitar and her voice, Briggs closes her latest project with a simple melody that sounds like it could have been a secret track on "Church of Scars," showcasing her empathy for the tireless efforts that come with falling in and out of love. 
As the final song comes to a close, her final message seems to be one of perseverance, however, it's hard for this to hit home when the overall unsettling tone of the album leaves listeners feeling confused and disconnected.
Briggs attempts to be brutally honest in "CHAMPION," but fails to do so in her final delivery. There are some high points, but most of the tracks are predictable and quite frankly, forgettable. 
The album's concept itself is underdeveloped and leaves much to be desired.