Despite a first half where they shot 21.4%, the Boston University men's basketball team was narrowly defeated 63-52 by Southeast Missouri State University in the opening game of the Cream City Classic on Saturday afternoon.
A few days after shooting 3-22 from behind the arc in their 64-57 win against New Hampshire, Saturday was another cold day for the Terriers (4-3), who finished 20.8% from deep.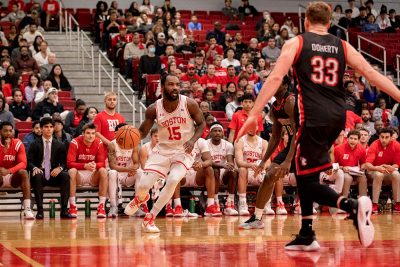 "We just have to get back to playing how we play," BU assistant coach Mike Quinn said postgame. "There were a lot of times we didn't play through our concepts. We didn't get the ball moving side to side. We didn't share it. We were just holding on to it too much and trying to go one-on-one."
After a slow first half in which SEMO came out with more energy and better defense and rebounding, BU came out of the halftime break with new energy.
"If you asked anybody in our program, they would say that was a bad half," Quinn said. "The second half, our defense picked up. We were able to rebound the ball better, which allowed us to get out of transition. We're a team that likes to get out of transition. That fuels us. So I thought that was the big difference. To get some easy baskets, it allowed us to go on some runs."
Graduate student guard Jonas Harper led the way for BU, scoring 15 points and dishing out two assists. Harper had a few big defensive stands and scores down the stretch to keep the Terriers within reach.
"(Head coach Joe Jones) always preaches, 'Go out and make a play on the defensive end, go out and make a rebound, go out and make a play for somebody else,'" Quinn said. "Jonas certainly took that challenge and tried to make some plays defensively for us."
For the Redhawks (5-2), sophomore guard Phillip Russell led the offensive attack, totaling 21 points, six rebounds, and three assists.
Senior guard Chris Harris also contributed 12 points, seven rebounds, and two assists.
Despite their only lead coming four minutes into the game, the Terriers were never really out of the game. They always seemed within reach of SEMO, with their closest margin being just four points with three minutes left in the game.
A 7-0 run of free throws in the final 70 seconds put the game out of reach for the Terriers.
Quinn emphasized that while the team bounced back in the second half of Saturday's game, they need to play a full 40 minutes to be successful.
"Some guys really worked and took on the challenge to help spark us, communicate better, and get us more connected on the defensive end," he said. "We got to build off that and put two of those halves together."
The team next fell to University of Wisconsin Milwaukee 67-46 on Sunday afternoon in the Cream City Classic and will turn to their matchup on Monday against University of California Davis.