Barbara Lynch, a chef and restaurateur from Boston, spoke about her career at Boston University's School of Hospitality Administration on Feb. 3 as part of the Dean's Distinguished Speakers Series.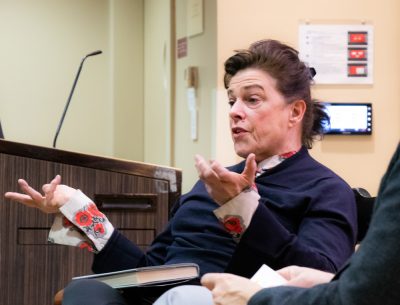 Lynch, a James Beard Award winner and Relais & Châteaux Grand Chef, opened her first restaurant in 1998 and has since received many awards and honors. She was named Best Chef by Boston Magazine in 2007, Distinguished Chef by Johnson and Wales University in 2011 and was named to the TIME 100, Time Magazine's annual list of the world's most influential people, in 2017. 
In her talk at SHA, Lynch spoke about her experience growing up around Boston and where her passion for cooking comes from.
"I wanted to be a chef since I was 12," she said. "I went to Madison Park High in Roxbury and I had a wonderful home ec teacher and she was also a master pastry chef at the Cambridge School of culinary arts… and I would wash dishes for her so I could get some of her literature and her recipes."
Lynch said she worked at various culinary jobs around Massachusetts, including at the St. Botolph Club, a port warehouse and a clam chowder shop in Martha's Vineyard, before opening her own restaurant, No. 9 Park, in Beacon Hill in 1998.
"Opening [No. 9 Park] was tough," Lynch said. "People are judgmental and you gotta be strong. Once you get it going, it's actually cool. It's rewarding to be able to manage it and run it."
Lynch, who was the second woman ever to be named Outstanding Restaurateur by the James Beard Foundation, said women working in the restaurant industry have to be tough.
"It's always about being a little stronger," she said. "I didn't think of it as like 'I'm a female'… I could play just as tough as anybody."
Arun Upneja, dean of SHA, said everything about Lynch "screams success."
"[Lynch] doesn't have a whole lot of formal education, but she has grit, she has passion, she has hard work… and just an incurable thirst for learning," Upneja said.
Considering Lynch's great achievements, Upneja emphasized the importance of having her speak at the University. 
"You always want to associate with successful people and not just successful [people], but also people who have a lot of integrity and who are inspirational," Upneja said. "Having the School of Hospitality associate with Barbara Lynch is very important in that respect."
Sarah Laffey, a graduate student in the School of Hospitality Administration, said she thinks Lynch comes across as a "strong, fierce and formidable" woman.
"I got a very strong impression from her from the book and that was of someone who is a fighter, who is strong, who is able to get through any obstacle and when I met her I got the same impression," Laffey said.
Laffey said she admires Lynch's ambition to bring more women into the traditionally male-dominated restaurant industry.
"As a female myself going into hospitality, it's a kind of scary field sometimes, but people like Barbara Lynch, who are the forerunners of women in hospitality, [make] it a lot easier for people like me to be able to make my own way," Laffey said.
Laffey said she appreciates Lynch's "no nonsense" approach to business.
"When you're in hospitality, you kind of have to walk a very fine line," she said. "You have to be interacting with guests and being kind to them, but at the same time, not taking any nonsense. It's a very fine line to walk and I think that Barbara Lynch exemplifies this very well."
Lynch said with increasing lack of hospitality, she believes it is a great time for people to enter the industry.
"Whatever you do, wherever you're going, make sure you love it," Lynch said. "It's not easy, but stay the course, keep the vision."