It's been a strange journey for Boston University junior forward Corey Trivino.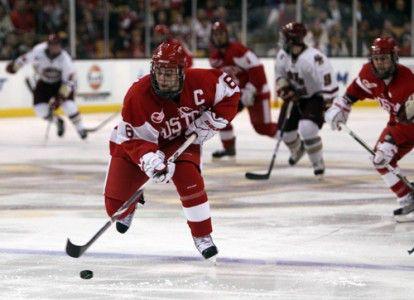 A second-round selection by the New York Islanders in the 2008 NHL draft, the Etobicoke, Ontario native was one of a handful of key recruits to join BU men's hockey coach Jack Parker's squad in 2008.
Centering fellow freshmen Vinny Saponari and Chris Connolly, the rookie played an important –– though clearly secondary –– role on one of the greatest college hockey teams in recent memory.
Then last season, Parker pegged Trivino as one of multiple players who would need to up his game if the Terriers were to make a run at a repeat. Things didn't quite work out. Charged primarily with second-line centerman duties, the then-sophomore emerged as one of Hockey East's finest defensive forwards. That was all well and dandy, but Trivino wasn't drafted in the second round to kill penalties.
The NHL's Central Scouting Bureau had hyped him as a forward with a "good goal-scoring touch." The 10 goals he scored in his first 60 games left BU fans with plenty to be desired. A two-game suspension to start the 2010-11 season and the dismissal of Saponari –– one of Trivino's closest friends –– didn't help.
The story, through most of this season, had been the same: fantastic defense, mediocre offense. Finally, three weeks ago, Parker demoted Trivino to third-line duties, placing him between sophomores Ross Gaudet and Wade Megan.
Since the change, Trivino's game has taken a sharp turn for the offensive –– a change never more evident than in last night's 3-2 overtime loss to No. 1 Boston College.
In a first period that saw the Eagles dominate possession and attempt nearly twice as many shots as the Terriers, Trivino's line was little short of stellar.
Midway through the frame, Trivino put his defensive prowess on display, flying in on the backcheck to thwart a scoring chance by breaking up a potentially perilous centering pass.
Seconds later, Trivino broke through center ice and was headed for a 1-on-1 showdown with a BC defender. He never got across the blue line, though, instead settling for a penalty drawn as Eagle senior Brian Gibbons tripped him up.
After Megan netted his sixth goal to square the score at one, Trivino took the lead on the go-ahead tally. The junior scooped up the rebound on a blocked Gaudet shot, deked around an Eagle defender and smoked one by BC goalie John Muse.
The elements of that goal –– the wherewithal to get to the net, the coordination and poise to calm the bouncing puck and the patience and confidence to swoop around the BC defender before rifling the shot home –– exemplify the changes in Trivino's game since the demotion.
"I think once I was on the third line, I had nothing to lose, so I'm just trying to do what I can do," Trivino said. "I'm really gaining my confidence now. Wherever he puts me from now on, I feel like I can do what I'm supposed to be doing. I can make some plays, be creative and create some offensive chances."
That self-assurance is a new trait for the oft soft-spoken centerman. Credit for his newfound swagger? Trivino gives a lot of it to Parker.
"Me and Coach have a pretty good relationship in terms of talking through what's wrong, what's going through my mind," Trivino said. "I feel like when I have the puck, I'm more confident with it.
"I want to make plays instead of giving it to someone else who can make the play. I feel like, in general, it was just a confidence-based issue. When I have the puck now, I feel like I can do something with it rather than just give it to somebody else."