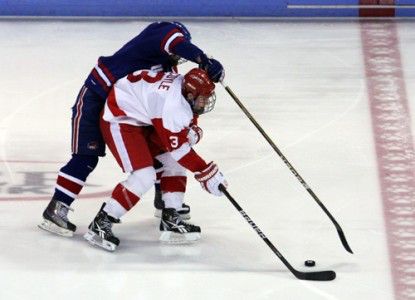 A few years ago, when Charlie Coyle made his first visit to Boston University as a recruit, BU men's hockey coach Jack Parker asked for Coyle's email address. Parker wanted to send Coyle some information, but he was a bit surprised by Coyle's e-mail address.
"His email address was something like BUhockey03," Coyle's father, Chuck Coyle, recalled. "[Parker] looked at him funny and I kind of said, 'Hey, it's been like this forever.'"
In some ways, Coyle's roots at BU are as deep as they come, as they go back to before the 19-year-old was even born. His cousin, Tony Amonte, played two seasons for the Terriers from 1989-1991 and was an offensive standout, scoring 136 points in 79 career games.
Coyle grew up in Weymouth, 18 miles south of Boston, and loved watching the Terriers win the Beanpot nearly every year. At age 12, when Coyle was playing mite hockey, he skated for the Boston Jr. Terriers.
According to his father, anytime anybody asked Coyle where he planned to play hockey when he was older, Coyle always said BU.
It was the only school Coyle ever visited, and after his visit, Parker and Coyle's family encouraged him to take his time making a decision and look into all of his options. But Coyle was not interested in looking elsewhere. He waited for only a few days before calling Parker back to verbally commit.
"BU was it for me," Coyle said. "There was no other place I wanted to go. I have been a lifelong fan of BU growing up. Really the only option in my mind was to come here, so I just tried to make that happen and it did."
But making it onto a Division I college hockey team involved much more than just a phone call. Coyle played one season of hockey for Weymouth High School before transferring to Thayer Academy, a prep school that could better prepare him for collegiate hockey. Coyle played for Thayer for two seasons and was named team MVP in his sophomore year after collecting 48 points (20 goals, 28 assists) in 26 games.
Coyle's impressive numbers attracted BU's attention, and the Terriers looked into bringing Coyle to BU a year earlier than the 2011 entrance date they had planned. In order to do so, Coyle would have to be able to graduate high school by June 2010. Although Coyle could only be a junior at Thayer, he had enough credits to be a senior at Weymouth High, so he transferred back to Weymouth in order to be able to graduate in time to join the 2010-11 Terriers.
"It was pretty fun to be back with the people I started with and all of my buddies," Coyle said. "It was nice to go back and just be part of that school again, so it was pretty cool that I was able to do that."
Although Coyle attended Weymouth High, he was playing hockey at a level higher than what Weymouth could provide, so he joined the South Shore Kings of the Eastern Junior Hockey League for his senior year of high school.
In addition to high-level games, Coyle worked tirelessly in the gym, on the ice and even in his driveway to improve his game.
During the summers, Coyle would wake up at 6 a.m. and work all day as a delivery boy, then jog to the gym where he would spend hours working out and then return home and shoot pucks or do sprints.
"He was committed to doing that," Coyle's father said. "I very rarely would say, 'Hey, how come you're not doing this?' Instead I would say, 'Wow, there's Charlie out there, he's got half the neighborhood out there shooting pucks.'"
Coyle's work paid off. He has excelled at every level of hockey he has played in, and by the time his friends were preparing for prom and graduation, Coyle was preparing for the NHL draft.
True to his somewhat humble nature, Coyle refused to admit that, as a potential NHL draft pick attending a public school, he was a popular kid, but he did acknowledge that, "I guess a lot of people knew who I was."
And how could they not? Coyle was picked in the first round (28th overall) of the 2010 draft by the San Jose Sharks.
"It was pretty busy, but that's what I've always worked for, to be drafted and hopefully play pro hockey," Coyle said. "If you're drafted in the first round, it's pretty nice. But just sitting there that whole time, the round was going on and it was getting toward the end. You just want to get it over with so it was nice to finally be picked in that round and just kind of breathe again after that."
Coyle's life did not slow down after the draft. As soon as he returned to Weymouth, Coyle had to report to BU to begin classes and workouts. After summer school, he went to the United States World Juniors tryout camp and a week after that, he attended San Jose's rookie camp. By the time that was over, Coyle had to return to BU to get ready for the season.
Despite his busy summer, Coyle started off strong with the Terriers. In his first game at BU, an exhibition against the University of Toronto, Coyle recorded a hat trick and added an assist.
He played well throughout the first half of the season, scoring five goals and nine assists before heading off to Buffalo during December break to represent the United States in the World Junior Championships. Coyle tied with Boston College's Chris Kreider and Anaheim Ducks prospect Kyle Palmieri for the team lead in points with two goals and four assists. At the end of the tournament, the World Juniors coaches named Coyle the team's top forward.
"I think it could have gone to a bunch of different guys, but definitely it wasn't all me," Coyle said of being top forward. "Playing with those guys makes it easier to play because they know the game as good as you do, but I got a little lucky, I guess."
Like the rest of the Terriers, however, Coyle's hot start did not culminate in a strong finish. He scored two goals in the second half of the season and struggled just as mightily as the rest of the team to put the puck in the net. Despite Coyle's scoring drought, however, Parker repeatedly praised Coyle throughout the season for his consistent effort.
"I don't think there's too many freshmen who got more playing time than he did," Parker said. "I think Charlie fell off a little bit in the second half, and he was frustrated that he wasn't scoring, but he also got a little tired. It was a long season for him. I think there was more pressure on him to perform too because of who he is and how he started out."
While Coyle's scoring tailed off toward the end of the year, he still finished the season as the leading scorer amongst all freshmen in conference games with six goals and 15 assists. Those numbers helped Coyle win the league's Rookie of the Year award, an honor Coyle said he was both glad and lucky to receive.
"I feel selfish taking the award for myself," Coyle said. "The rookies on our team helped us a lot this year. I think it could have gone to a lot of different kids. Playing with the guys we did this year definitely helped me win this award, and I'm pretty thankful to be selected for it."
Despite winning Rookie of the Year, Coyle is not entirely satisfied with the season. As a local kid who watched BU win the Beanpot so often growing up, Coyle took the team's first-round Hockey East playoff exit so personally that he does not like to talk or think about the tournament. He expects to have a better season next year, and although he is now taking a break from skating for the first time in over a year, he is working hard in the gym to keep his body in shape.
Coyle is excited to finish up the academic year and go home so he can finally relax and spend some time with his family. The Sharks loom in Coyle's future, but for now he is simply excited to finally be playing hockey for Boston University.
"Just being around hockey and the student life and just being a part of this on campus is pretty cool," Coyle said. "The whole BU experience, to finally be a part of this, that's why I came to BU – so I could be a part of this, and I'm enjoying it."