In an exhibition game that morphed from a blowout to a tense affair because of four third period Terrier goals, the Boston University men's ice hockey team fell to St. Francis Xavier University, 6-4, at Agganis Arena Saturday night.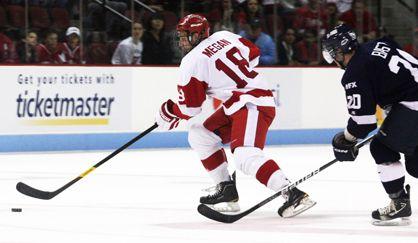 The Terriers struggled immensely on special teams, giving up two short-handed goals, two power play goals and a 4-on-4 goal.
"It wasn't the way we wanted to start the season," said BU coach Jack Parker, "but I didn't mind the end of the game, the way we came back in the third period.
"I thought the game was a mess for us because our defense as a whole did not defend and did not move the puck out of the zone very well. They looked like they were trying to get noticed, and they were getting noticed the wrong way."
St. Francis scored early and often on BU. Just 1:54 into the first period, the X-Men cashed in short-handed when a pass to freshman defenseman Alexx Privitera hopped over his stick and St. Francis' Bryce Swan scored on the resulting two-on-one. The X-Men doubled their lead less than four minutes later when Kevin Undershute dropped a pass to Brennen Wray, who scored stick-side on an uncharacteristically flappable senior goaltender Kieran Millan.
It took just three more minutes for St. Francis to extend its lead. The X-Men were on a power play as a result of a hitting-after-the-whistle call on sophomore defenseman Adam Clendening. Millan failed to clear away a bouncing puck and Undershute capitalized, sneaking it behind the goalie to make it 3-0 St. Francis.
Six minutes into the second period, St. Francis earned its second power-play tally of the night when Nick Pageau rocketed a shot through Millan's five-hole. Millan started to look better as the period went on, but with just 20 seconds remaining in the frame, a Max Nicastro turnover in the offensive zone proved costly as Jason Bast took the puck the other way and beat Millan easily to increase the lead to 5-0.
"I don't think Kieran had a great night," Parker said. "That surprised me. He didn't seem set from the get-go. Of course from the get-go, he let a shot in the goal and that gets him off his game."
But the Terriers took over in the third period. Junior defenseman Ben Rosen notched the Terriers' first goal when his shot caromed between defenseman Gabriel O'Connor's legs and past St. Francis goalie Joseph Perricone.
"[Perricone] played great the first two periods, and then I think he whiffed on that goal," Parker said. "And then it gave us life."
Privitera scored his first goal in a BU jersey when he banged home a backhander off a Connolly rebound 12:13 into the third period.
Junior forward Wade Megan tightened the score to 5-3 late in the third period when he raced in on a 3-on-1 and flicked a puck over Perricone's ankle for the tally. Megan brought BU within a goal with 2:42 remaining in the game when he shoved a centering pass from assistant captain and forward Alex Chiasson past Perricone.
"I think overall we played harder in the third than we did in the first and second," Megan said. "We were physical and doing a lot more little things right, which is good."
St. Francis, however, scored an empty net goal with 1.4 seconds left in the game to narrowly escape with the 6-4 victory.
While Parker did note that his entire defense struggled throughout the game, Millan looked terrible in net for much of his time between the pipes.
The senior allowed three goals on 11 shots in the first period and two goals on six shots in the second period. He seemed handcuffed on multiple goals and mostly failed to make big stops when the Terriers needed them. Meanwhile, senior goaltender Grant Rollheiser played the third period and stopped all seven shots he faced.
Despite Millan's poor outing, however, both Parker and Megan said they are not at all concerned about the goalie going forward.
"I don't think one person on this team is worried about Millan," Megan said. "He's proven from the time that he's been here that he's more than capable, so we just tried to play hard in front of him, and that just means we need to score more goals if he lets a few in.
"He's bailed us out many, many, many times, so I don't think that's a cause for concern at all."