In the past three games, the No. 4 Boston University women's hockey team has started three different goaltenders and won all three times. On Saturday it was sophomore Braly Hiller getting the 6-2 win for the Terriers in their game against Union College.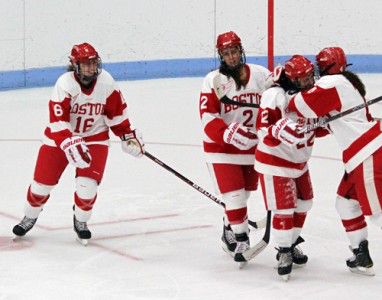 Hiller, who stopped 27 Union (1-4) shots in her first career start, only appeared in one game last season as a freshman, and is currently third on the depth chart for the Terriers (4-1).
"I don't ever want to start a controversy in goal, but the people here from day one last year knew that she was more than a third-string goalie," said BU coach Brian Durocher. "This is not a charity case where we just put her out there . . . She had to be on her game and play extremely well."
Hiller is an example of the depth that the Terriers have at each position, showing that she could step up if the team needs her down the stretch. Despite it being her first collegiate start, Hiller appeared to play confidently.
"There was definitely a little bit of nerves with it being my first time and not really knowing what to expect in a game situation," Hiller said. "But I just made a couple saves, I got a groove and went from there."
Freshman forward Kayla Tutino led the way for the Terriers' offense, scoring her first collegiate hat trick. Tutino scored a short-handed goal in the final seconds of the first period to give the Terriers the 2-1 lead before tallying two more in the third to expand BU's lead.
"Tip our cap to her for how well she has played," Durocher said. "She has got to be excited about coming up with a hat trick like that."
It was a good night on the power play for senior captain Jenn Wakefield, who came up with two goals with the player advantage. The reigning Hockey East Co-Player of the Week has a point in four out of the five games this season, and leads the Terriers with five power-play goals.
Similarly, BU's special teams have dominated in the first five games this season. The Terriers have scored an astounding four short-handed goals and seven power-play goals, including Tutino's short-handed goal and Wakefield's two power-play goals on Saturday.
"A lot of [scoring short-handed goals] has to do with having some pretty talented kids," Durocher said. "When they get a little bit more ice it is almost an advantage to them."
Also adding her name to the goal column for BU was senior defenseman Kasey Boucher, who gave the Terriers an insurance goal in the second period. Sophomore forward Louise Warren and freshman forward Sarah Bayersdorfer were credited with the assists, the first of Bayersdorfer's collegiate career.
The offense scored six goals in the game, chasing Union's starting goaltender Shenae Lundberg out of the net thanks to a season-high 44. However, Durocher credits this shot total to a combination of his team's skill and Union's fatigue from a game against Northeastern University the previous day.
"I think it was definitely hard on their team as far as today goes," Durocher said. "It is good preparation for the year [for Union], but tough today."
Up next for the Terriers is Clarkson University, which marks the first stop of a five-game road trip. This stretch will include a two-game series that will pin the Terriers against Wisconsin University in a rematch of last year's championship game. The Terriers end their trip with a stop in Chestnut Hill for their first matchup of the season with rival Boston College.
"There are no walk-overs in that group of teams and they are all on the road," Durocher said. "If we are not thorough the games can get away from you real fast."