Two oft-injured members of the No. 12/13 Boston University men's hockey team, red shirt freshman forward Yasin Cisse and junior defender Ryan Ruikka, have been practicing with the team for weeks but have yet to dress for a game this season.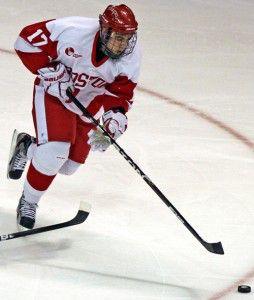 Cisse has missed nearly two full seasons due to a torn ankle tendon after playing just 18 games with the Des Moines Buccaneers of the USHL in 2009-10. Then his freshman year at BU (2-2, 1-1 Hockey East) ended before it really got started when he re-tore the tendon in his collegiate debut on Oct. 8.
The Westmount, Quebec native recovered from those injuries in time for this season, but a pre-season concussion delayed his comeback, and according to BU coach Jack Parker, the team will take it slow while Cisse shakes off the rust.
"[Cisse] has to get the feel of the puck again to be able to play again," Parker said. "We won't put him out there until we feel comfortable."
Similarly injury-plagued, Ruikka suffered another pre-season injury – his third in four seasons at BU – this time a hairline fracture in his foot. Doctors cleared Ruikka to skate several weeks ago, but the team's medical staff wants Ruikka to take it slow, just like it prefers with Cisse.
Even when he's game-ready, Parker said Ruikka won't simply be given a spot in the lineup, but likes the chances of the junior finding his way in there anyway.
"Ruikka has proven he can play in this league and proven he can give us solid minutes and proven he's a good team guy," Parker said. "I'm sure he'll get in the lineup, and probably stay there."
Streaking Terriers
No one is running through Agganis Arena naked, but a pair of forwards are doing some streaking of another kind: Sophomore Matt Nieto and junior assistant captain Alex Chiasson will carry six-game point streaks into this weekend's home-and-home series with University of Massachusetts. Both have both tallied at least one point in every game dating back to last season's Hockey East quarterfinals against Northeastern University.
Most recently against College of the Holy Cross on Oct. 22, Chiasson scored two goals while his linemate added another, bringing both of their season totals to four.
Nieto joined senior forward Corey Trivino and freshman forward Evan Rodrigues as the only three players Parker said played well that night, but he wasn't nearly as pleased with Chiasson's play.
"Chiasson didn't play well at all. He got two goals. It's nice to get goals. I don't think he played well," Parker said. "He like everyone else, didn't play hard enough, didn't play smart enough, didn't play defense first. Didn't compete in our own end."
Chiasson was very passive in his chance to rebut.
"I have to be a leader of this team and show the younger guys how a BU hockey player should be," Chiasson said. "[Parker is] coaching me and wants me to be a better player out there and I think have to be better for the team."
Polls at a glance
After the upset to Holy Cross, the Terriers fell to their lowest rank of the season in the two major national polls when they were released on Monday.
BU is now ranked 13th in the country according to U.S. Collegiate Hockey Online, down from its season-best seventh last week. In the USA Today/USA Hockey poll, the Terriers are down to 12th, a big drop from eighth the week before.
The only other two nationally ranked Hockey East teams are Boston College and Merrimack College, ranked first and ninth, respectively, in both polls.
Defense-less
BU's defensemen have had much success in recent years in terms of reaching the pros, but four games into the season this year's blueliners haven't faired nearly as well.
The defensive core – comprised of juniors Max Nicastro and Sean Escobedo, sophomores Adam Clendening, Garrett Noonan and Patrick MacGregor and freshman Alexx Privitera – have allowed an average of 3.2 goals per game, a number that would look much uglier if not for a season-opening 5-0 win over University of New Hampshire.
Nicastro and Escobedo, the resident elder statesmen, in particular have not impressed Parker.
"They've been inconsistent as individuals and as a pair," Parker said. "They need to step up."
BU should receive reinforcements when Ruikka returns. He had an impressive first-half last season before injuries hampered his second half.
In his absence, one pleasant surprise in the defensive zone has been MacGregor, BU's "most consistent defensive defenseman," according to Parker, and the Terriers have several unofficial leaders stepping up.
"The two sophomore defensemen [Clendening and Noonan] feel they get so much ice time and feel they're so important to the team that they push their teammates pretty good," Parker said. "And Ruikka's a leader even when he's not in the lineup."