Propelled by a scoring drive late in the second half, the Boston University lacrosse team defeated Yale University 13-8 on Wednesday for its first home win of season.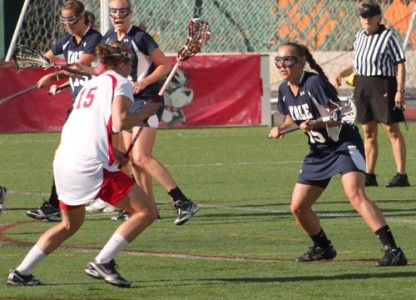 The Terriers (4-4) have turned their two-game winning streak that began during spring break into a three-game stretch of victories. They will begin conference play on Saturday at .500 for the first time all season.
Senior attack Molly Swain said the streak and the team's performance over the weekend helped them prepare for Yale (2-4).
"We capitalized on [the previous wins], corrected some mistakes we had this weekend and over break to really push today," Swain said.
BU coach Liz Robertshaw said the winning streak, even before Wednesday's game, gives the Terriers more confidence.
"[The recent success] has definitely loosened [the team] up a little bit," she said. "I told them in pregame that I am a very demanding coach – they already knew that – but that today I just wanted them to go out and show everyone what they were capable of and I think you saw a good 45 minutes of that."
Robertshaw added that she thinks the joy of victory is one of the contributors to the new sense of confidence.
"We had that little bit of a lull period [in the second half], but I think you saw a better BU team because they feel more confident in what they can do and they felt winning and they want to do it again," Robertshaw said. "It's a lot more fun."
Senior midfielder Hannah Frey opened the game with a goal 1:24 into the first half off an assist from junior attack Danielle Etrasco. Yale responded almost seven minutes later with attack Caroline Crow's unassisted goal, her only one in the contest.
BU embarked on a three-goal run over a 3:30 period beginning shortly after Crow's goal, jumping out to its largest lead of the half. But Yale closed out the final 12:43 with four goals as BU scored once, knotting the score 5-5 at halftime.
BU tallied two goals at the beginning of the second to jump out to another lead, but Yale came right back with two goals of its own less than a minute, tying the game again.
For the next 12 minutes both teams went scoreless, until Swain scored on a free-position shot to break the drought after a Terrier timeout. It took almost five more minutes for another goal to be scored, but BU found the net five times in the final eight minutes to win. Yale put the ball between the pipes only once in that time.
BU finished the game with a statistical edge in almost every category. The Terriers took 38 shots to the Bulldogs' 18. Yale picked up only eight ground balls and won eight draw controls, while BU finished with 21 and 14, respective. The Terriers also had two more penalty minutes than the Bulldogs, though they did take 11 free-position shots to Yale's six.
Swain and freshman attack Mallory Collins ended as the leading scorers for both BU and the game with three goals each. Frey, senior midfielder Annie Stooksberry and sophomore midfielder Kristen Mogavero also scored twice for BU.
Etrasco emerged as the Terriers' most successful winner of draw controls with six, Stooksberry led BU with five ground balls, and Swain took 11 shots.
Sophomore goalkeeper Christina Sheridan played all 60 minutes in goal for BU, allowing eight goals while stopping one shot in the first half and three in the second.
Freshman midfielder Cathryn Avallone extended her position as the Bulldogs' leading goal scorer for the season with two goals against the Terriers. Six other Bulldogs also contributed a single goal.
Sophomore goalkeeper Erin McMullan started for the Bulldogs for first time this season, playing all 60 minutes. She made 10 saves, six in the first half and four in the second.
With only two non-conference games remaining – both of which are in the middle of BU's schedule against the America East Conference – Robertshaw is looking toward the conference slate and expressed a bit of excitement to face familiar foes.
"I'm just looking forward to getting in the mix," Robertshaw said. "You know, there's been a lot of talk of our conference doing well outside of our conference play. I want us to be in that mix. I want us to start playing and seeing how we stack up against our own conference."