The Boston University Lacrosse team will look to continue its seven-game winning streak as the Terriers (8-4, 4-0 America East) take on the crosstown rival No. 20 Boston College Eagles (6-7) Wednesday afternoon on Nickerson Field.  Wednesday's contest is the Terriers' Breast Cancer Awareness Game.
"This is a really aggressive team that plays in a strong conference against some good competition," BU coach Liz Robertshaw said. "We need to do our best to slow this team down because they definitely like to put the ball in the back of the net and they are aggressive."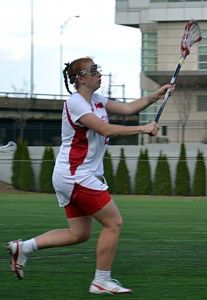 The Terriers won their last two games with decisive 13-8 and 16-11 victories.  The team's offense is led by two primary scorers, junior attack Danielle Etrasco and freshman attack Mallory Collins.  Etrasco leads the team with 42 goals and 56 total points.  Collins, recently named America East Rookie of the Week for her performance last week, has 38 goals on the season with 44 total points.
Collins leads all NCAA rookies with her goals and 3.17 per game average. The Terriers collectively score an average of 12.92 goals per game with a 48.6 shot percentage.
"In a game like this where there is going to be a lot of attention drawn to Danielle and drawn to Mallory we need everybody to step up," Robertshaw said. "We can't have two goal scorers, we need to have seven."
The No. 20 Eagles have lost three of their last four games, which includes a 12-11 defeat at No. 6 Duke University on Saturday. The other two losses in that stretch were also against ranked opponents.  The team's offense is led by graduate student Kristin Igoe and freshman Covie Stanwick.  Igoe, having an Eagles' record breaking career, leads the team with 36 goals and 43 points.
Stanwick has tallied up 40 with a team-leading 18 assists.  BC scores an average of 12.38 goals per game with a 46.1 shot percentage.
"This is an aggressive, high-scoring Boston College with some players who are really doing well," Robertshaw said.
Defensively, BU averages 13.25 draw controls and 15.58 ground balls per game. The team also causes an average of 5.58 turnovers per game and has a clear percentage of 75.  In the goal, sophomore goalkeeper Christina Sheridan has tallied 92 saves for a 41.1 save percentage and also her first collegiate assist last Saturday against the University of Albany.
"Especially at Albany, I think [Sheridan] had three or four saves that were all big saves that can change the momentum," Robertshaw said. "That is something we look for her to do, and she has done a great job of it."
BC has averaged 14.31 draw controls and 13.92 ground balls per game. The Eagles caused an average of 5.84 turnovers per game, and they have 85.3 clear percentage. The Eagles' two goalkeepers, freshman Emily Mata and senior Catherine Conway, have together tallied up 91 saves for an overall save percentage of 37.6.  Mata is the leading goalkeeper with 60 saves and a 41.4 save percentage.
The Terriers are 11-6-1 all-time against BC. Under Robertshaw, BU has gone 3-2 against the Eagles, including a 3-1 mark at Nickerson Field. BC defeated BU, 10-7, last season.  The opening draw is set to take place at 4pm.
"Everyone is excited about the BU vs. BC rivalry, and we are no different," Robertshaw said. "We cross-recruit a lot. We know a lot of their players and they know a lot of ours. It just adds another element of fun to the game."