After winning seven straight games since mid-March, the Boston University women's lacrosse team finally met its match Wednesday afternoon at Nickerson Field in a classic rivalry matchup with Boston College.
The Eagles dominated in the first frame to take a 14-6 lead. But the Terriers, whose second-half comebacks defined a number of games throughout the streak, failed to respond this time.
BC hung on for the 18-9 win, ending the team's losing streak, while BU dropped a home game and a non-conference game for the first time since March 10.
"I'm extremely disappointed in the way we played today," said BU coach Liz Robertshaw. "I 100 percent credit Boston College. I think they came ready to go. I think they were aggressive. I think they took advantage of every mistake, and they made us make mistakes."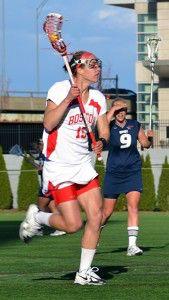 BC jumped out to a four-goal lead in the first five and a half minutes of the game. Freshman attack Mallory Collins finally broke the scoring drought for BU with a goal at 24:00, followed by another from junior attack Danielle Etrasco less than three minutes later.
After the two teams traded a goal, BC went on a 7-2 run to close out the half and, ultimately, the game.
Robertshaw said the Terriers failed to accomplish one of their goals heading into the match by letting BC score early and control the game.
"We talked about setting the tempo and I don't think we did that," she said.
The second half was much more back-and-forth, but BC still controlled play. After BC midfielder Mikaela Rix scored the first goal of that half, the Terriers scored twice in an attempt to cut the lead.
But three more BC goals over a ten-minute stretch, after an equally long dry spell of scoring, finalized the Terrier loss.
One of the primary areas where BC dominated was draw controls. In the first half, BC won 14-of-20 and in the second half, they took 7-of-8. As a result, the Eagles controlled possession throughout both halves, forcing the Terriers to look to turnovers for possession.
"The control in today's game is 100 percent a deal-breaker," Robertshaw said. "If you can control the draw, you're going to control this game."
BU also found itself down a player on a regular basis throughout the game. Four Terriers were sent off with yellow cards, compared to only one Eagle. BC scored on three of those four advantages, while BU fell short on its sole chance.
Collins, the most recent America East Rookie of the Week, led the Terriers with three goals on six shots, all of which were on goal. Senior attack Molly Swain and senior midfielder Annie Stookesberry each scored twice to round out BU's primary scorers. Ten players managed to pick up two ground balls for the Terriers.
Sophomore goalkeeper Christina Sheridan played all 60 minutes in the net, though junior goalkeeper Kim Elsworth did warm-up on the sidelines midway through the first half. Despite the 18 goals that rolled past her, Sheridan had nine saves.
"I was impressed with the saves she made," Robertshaw said of Sheridan's performance. "I think so many of the shots were point-blank. I mean, they were wide-open looks at cage . . . I think the defense didn't really protect her as well as they could have."
Sophomore attack Nell Burdis left the game with an injury after the first BC goal of the second half. She was carried off the field by two trainers, and Robertshaw did not know her status immediately after the game.
The Eagles had a trio of players with four goals. Senior midfielder Sam Taylor, fifth-year senior midfielder Kristin Igoe and junior attack Brooke Blue all scored a quadruplet of goals.
Rix and freshman attack Covie Stanwick scored twice. Igoe and Blue led the team in assists with three each. Furthermore, Igoe led the Eagles with four ground balls controlled and won six draw controls on the night.
Freshman goalkeeper Emily Mata played the first 17:42 for BC, making three saves and allowing four goals. She was replaced by senior goalkeeper Catherine Conway, who survived a number of BU attacks in her 42:18 in cage, stopping eight shots and allowing five goals.
Robertshaw said her team needs to work on its general mentality in preparation for the next few games.
"From a team perspective, I need to see better fight," she said. "I think it's just inconsistent. I think we've gotten away with it these past couple games, coming back – which has been great, and I think they've earned it – but right now, I think you just saw the weakness in terms of our mental game."