One inning was all that stood between the Boston University softball team and a series sweep of the University at Albany. After being eliminated from the America East Tournament by the Great Danes last year, the Terriers retaliated by taking the first two games of the weekend series against the former leader of the America East Conference, before dropping the third in a seventh-inning decision.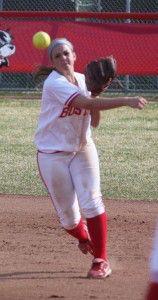 "We played pretty well," said BU coach Shawn Rychcik. "It's kind of upsetting that we were unable to get three [wins] out of [the series] – which would have been tough to do in this conference . . . and it's disappointing because we had an opportunity to do it."
Disappointing game-three seventh inning aside, the Terriers performed well in each matchup.
Saturday's first game was dictated by a BU offensive explosion, the likes of which had not been observed since the team's record-breaking win over Bryant University last month. The Terriers (24-13, 8-3 America East) racked up 13 hits and 13 RBIs on their way to a 13-2 routing of Albany (26-10, 9-3 America East). Sophomore pitcher Holli Floetker only had to toss five innings for BU, as the 11-run win invoked the NCAA mercy rule.
The Terriers did most of their work in the fifth inning as they batted around the order and came up with eight runs. Senior Erica Casacci had two of her three hits in that inning alone, and sophomore catcher Amy Ekart brought in all four of her RBIs of the game with a grand slam. Sophomore shortstop Brittany Clendenny also played a big part in BU's offensive effort as she logged two hits and three RBIs.
Floetker's dominant 10-strikeout performance and the flawless BU defense prevented the Great Danes from mustering any significant threat. Albany relieved sophomore ace Brittany MacFawn after the fourth inning.
"I thought we did a real good job offensively," Rychcik said. "We contained their running game a little bit – they've run a whole lot this year – and getting a lead helped us do that."
The second game between the canine adversaries yielded a much closer result. The Terriers crafted a single run in each of the fourth, fifth and seventh innings and ultimately scrapped their way to a 3-2 win.
The fourth and seventh inning runs for BU were brought in by sacrifice flies, coming from senior first baseman Melanie Delgado and sophomore center fielder Chelsea O'Connor. O'Connor doubled in the fifth inning to bring in the only run of that frame as well.
Junior Erin Schuppert won the pitcher's duel with senior Brittany Schweiger of Albany. Each pitcher garnered three strikeouts during the game, but Schweiger and the struggling Great Dane defense (four errors) allowed three runs, one unearned, whereas Schuppert gave up only one earned run.
Albany drew first blood on Sunday when senior Katie Wambold doubled to bring in sophomore Charlise Castro, but BU overcame the deficit during the following two innings.
Clendenny smacked a two-run homer and Delgado drove in junior second baseman Emily Roesch with a single between third and short during a three-run fourth for the Terriers. MacFawn, who started this game for the Great Danes as well, was once again forced out of the circle after the fourth inning.
The padding provided by BU's offense appeared to be enough to grab the win and the sweep from the Great Danes, as they could not put together a single run from the third inning to the sixth. However, a sudden outburst including five runs on five hits with two home runs resulted in a bewildering walk-off win for Albany.
Rychcik said the loss was disappointing, but, overall, he was happy with his team's offensive response to tough pitching.
"Losing it in the seventh makes it really tough," Rychcik said. "I don't think we're down. I think we feel good, we know we can beat them. We beat their number one pitcher – we ran her from both games. . . . I think from that standpoint we feel really good about it."