Hundreds of Boston University students and Boston locals stood in line to meet television personality Andy Cohen as he signed copies of his memoir at the university bookstore Friday night.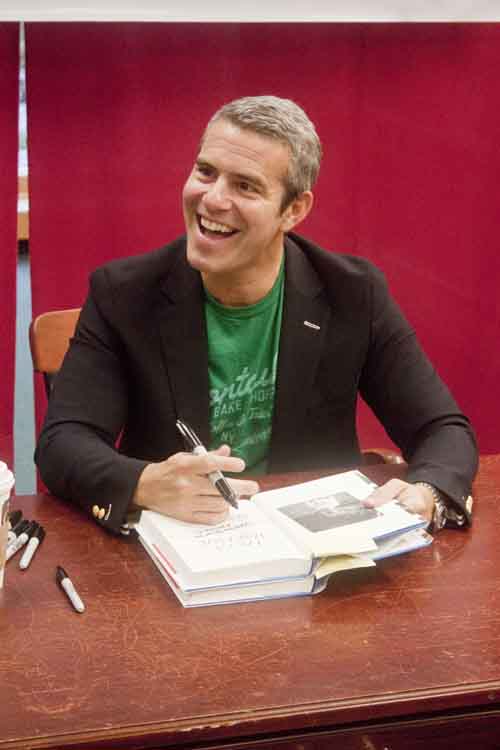 Cohen, a BU alumnus, held a signing of his memoir, Most Talkative: Stories from the Lines of Pop Culture, at the BU Barnes & Noble in Kenmore Square. He conversed with local fans and gave advice to students about finding success.
"Get as many internships as possible, work for free as much as you can, and let your passion guide you," said Andy Cohen to his fans after signing more than 450 copies of his new book.
Cohen, executive vice president of development and talent for Bravo, graduated from the College of Communication in 1990. He is expected to deliver the keynote address for COM's annual Distinguished Alumni Awards.
Cohen said it feels great to be back in Boston.
"I never get to come to Boston," he said. "It's really fun, and my roommate from BU is joining me tomorrow, so he and I are going to have a great time."
A number of those standing in line said they attended to see their favorite television personality, planning to leave with the signed memoir as a gift for family or friends.
"My mom's birthday is next week so I thought I'd get her the book with a happy birthday inside," said Elizabeth Wymer, a COM junior. "We watch Bravo together all the time. He's hilarious."
College of General Studies freshman Vincent Calvi said he respected and related to Cohen for being openly gay.
"To be openly gay in society today is still always hard," he said. "He's awkward. I'm awkward. He's gay. I'm gay. He's famous. I want to be famous."
Michael Pogarian, a COM graduate of the Class of 2012, said he hopes to work in television development like Cohen.
"He's the best. I pitched a reality show to him two years ago," Pogarian said. "I wanted to meet him in person."
Some students said Cohen's success shows the potential BU students have.
"He got a job right outside of college, working at CBS," said Maria Poccia, a freshman in the School of Education. "I think that it shows that [in] going to this school you can be successful and that we have a great alumni network, and networking is a huge part of going places."
Jeanne Haight, events manager at Barnes and Noble, said Cohen is an author the bookstore has wanted to host for a while.
We knew it'd be a great event, and lots of people would come out to see him" she said. "When we found out he was coming for alumni weekend, we said, 'This is the chance,' and he was more than willing to add a book stop to his weekend."